Planning a wedding can be an extremely overwhelming task for some couples. Take some time to relax and enjoy your engagement with your partner before you start planning. You want a wedding that focuses on you both. Therefore, take some time to compromise and prioritize the mood and style you want to set for your wedding. The most crucial aspect of wedding planning involves hiring industry specific teams of experts for your specific vision. Deciding on vendors can all depend upon your budget, goals, location, and set date. Following a wedding vendor checklist is a good way to start looking for your top vendors.
Aside from choosing your venue, you have to prepare yourself of navigating through the difficulties or stresses of the day to day activities when selecting wedding vendors. The wedding pros at De Luxe Banquet Hall are here to help ease the process by providing this wedding vendor checklist that shows all the vendors you may need for a perfect successful wedding day.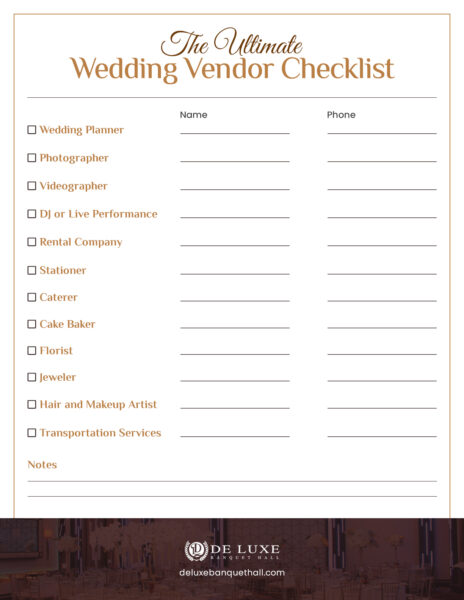 Download this wedding vendor checklist print out for easy access and planning.
Wedding Planner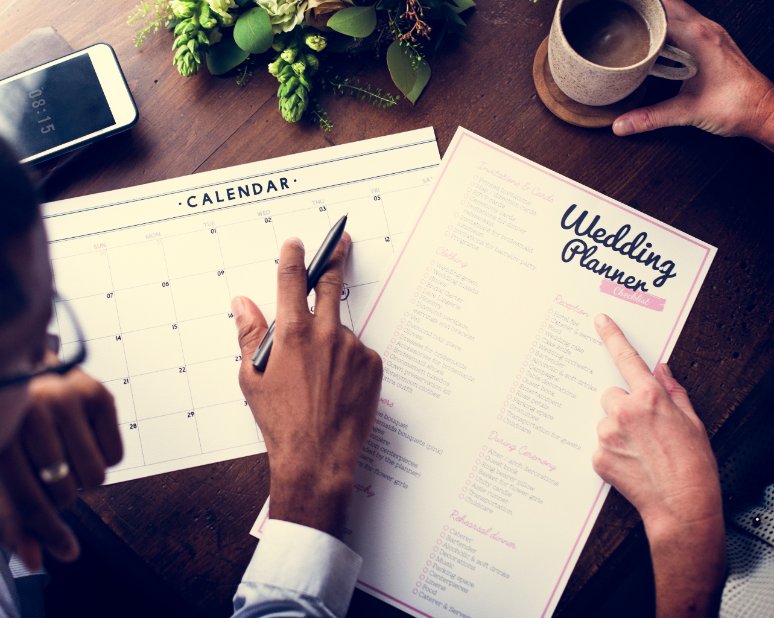 Wedding planning can take a lot of your free time. Between your social life and a full time job, you might already be feeling like you don't have any time at all. Therefore, the first step to your vendors checklist would be to hire a wedding planner. Hiring a wedding planner will allow you to be mostly hands off and ease the pressure from many of your responsibilities. They will help keep you organized, stay on budget, provide insider knowledge, inspire new ideas, and stay on track with your timeline.
Your wedding planner will help find or introduce you to many of the candidates on your wedding vendor list. Meanwhile, handling any hiccups along the way and ensuring that everything runs smoothly on your big day.
Photographer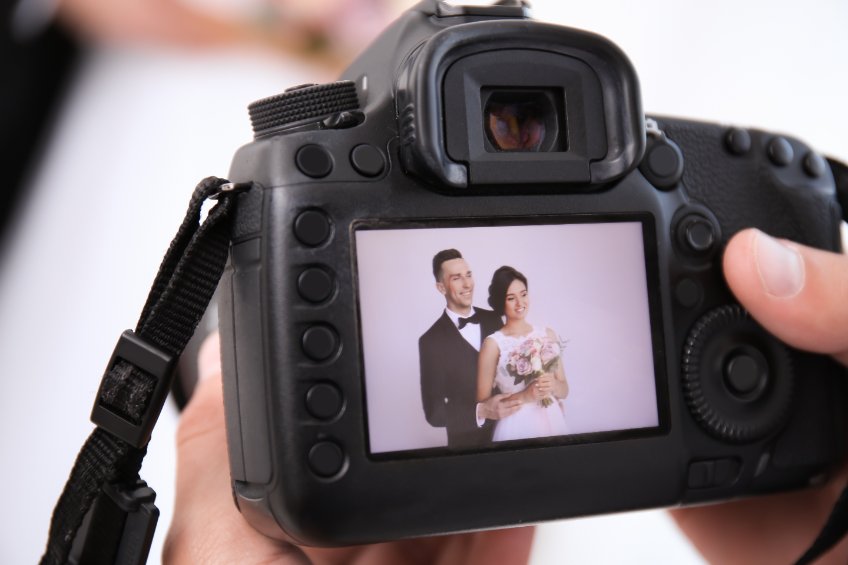 If you want to ensure you have quality wedding photos to look back on for years to come, then it is highly recommended to hire a professional photographer. A wedding photographer should arrive in a timely fashion, know what crucial moments to look out for, and provide guidance when your posing for photos.
Videographer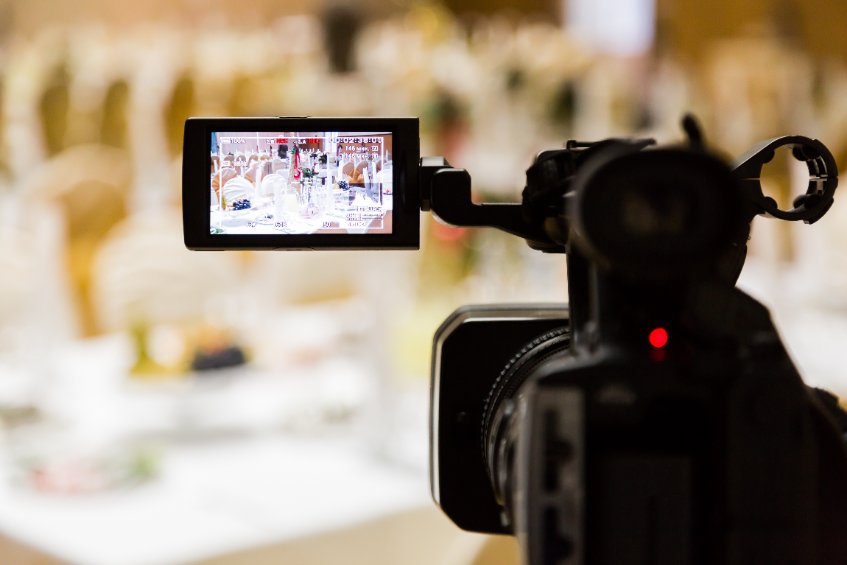 Sometimes both photography and videography services are provided by the same individual or vendor. Although some couples opt out of hiring videography services, most end up regretting doing so. This is because you can relive the special day by seeing and hearing it rather than having just stills of special moments.
Its important to ask for samples of finished products because not every videographer is going to have the same style. For example, one might prefer to make a artistic styled video, while another prefers a documentary style.
Rental Company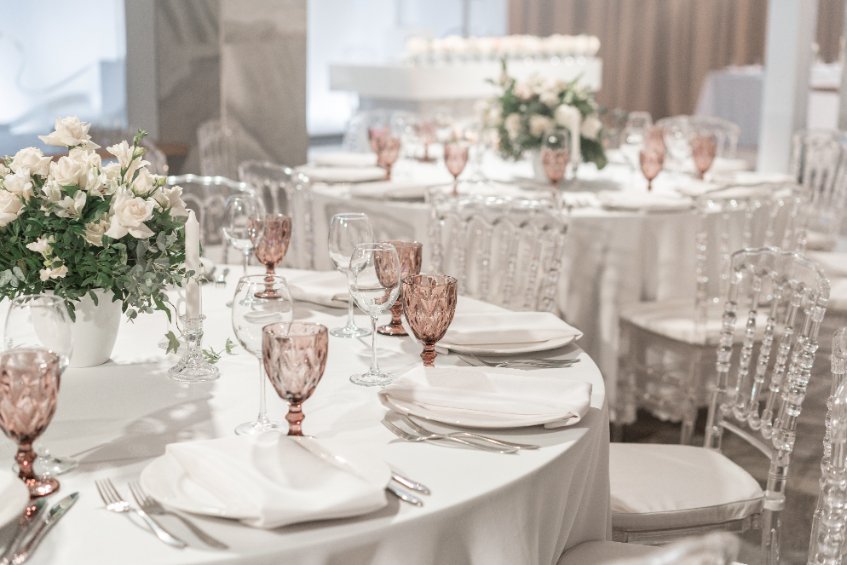 Depending on your venue and caterer you might need to rent such items like decorations, linens, tables, chairs, serving pieces, lounges, tents, dance floor, and photo booth.
Sometimes it may get overwhelming to go looking for such items from different rental companies. Therefore, stick with one rental company that has a majority of the items your looking for and can match with your wedding theme or color scheme.
DJ, Band, or Live Performance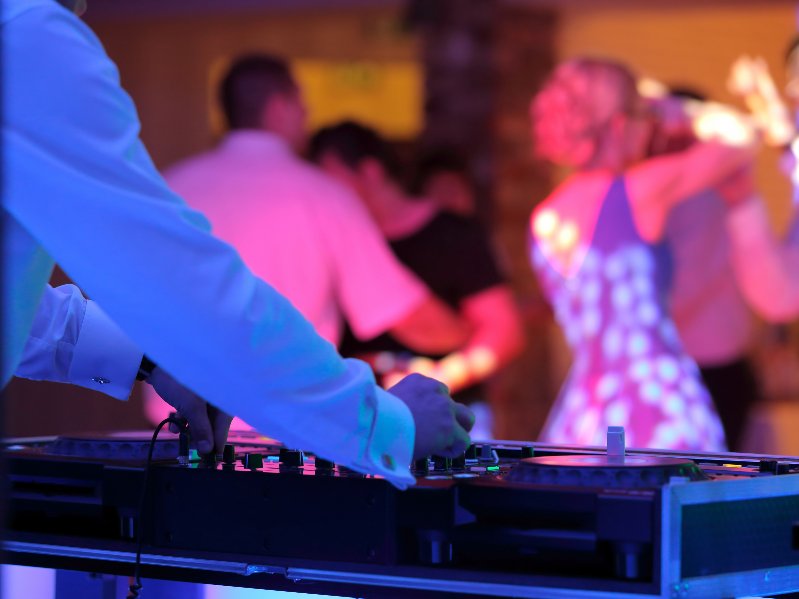 A must have in the wedding vendor checklist is the DJ, band, or live performance. After going through all the planning process and tying the knot, both you and your guests will want to celebrate and party the night away at the reception venue. What better way than with great music that will keep the energy going. Whichever you choose, your professional entertainer should have great references and credentials.
Transportation Services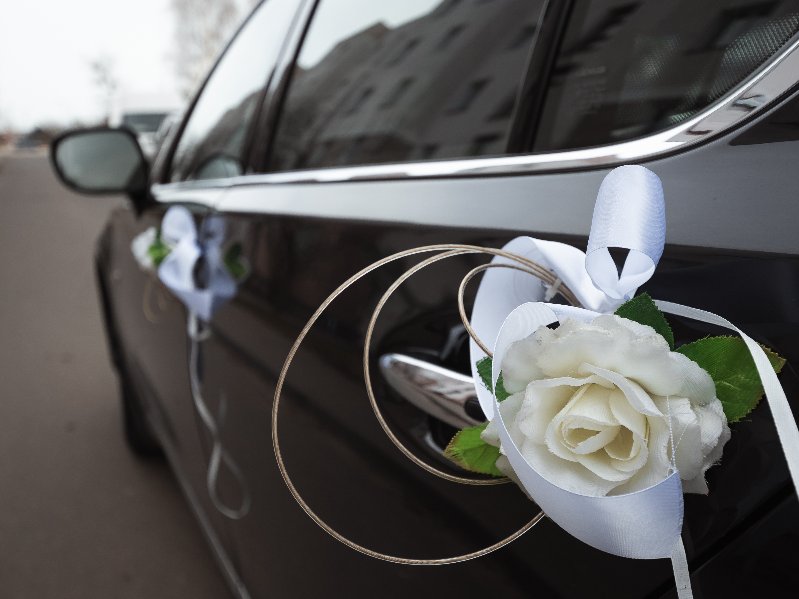 Depending on the wedding location and venue's parking situation, you may have to hire transportation services. The transport might be for you, your wedding party, or even to pick up a few guests from their hotel rooms.
You can also arrange valet parking services if parking is hard to come by in the area or to ease the flow of traffic in the parking lot.
Stationer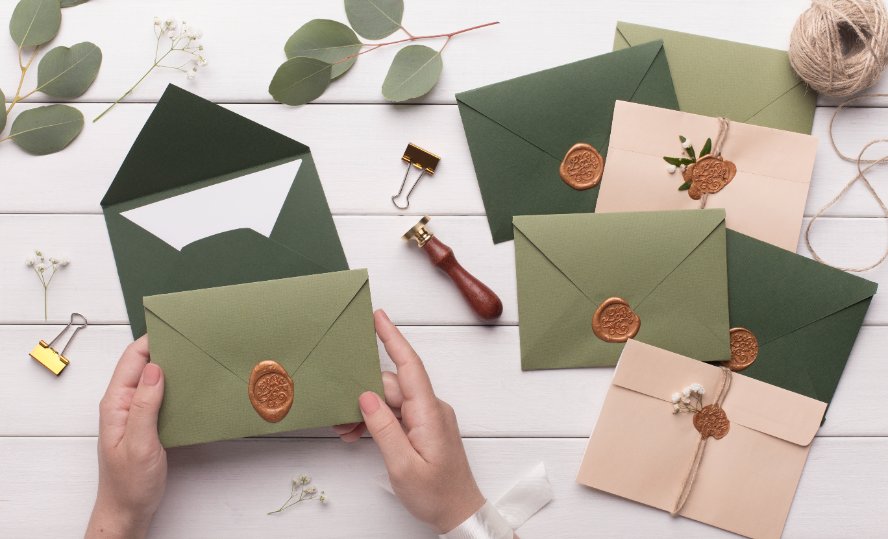 Your wedding planning process isn't completed without preparing stationery items. Stationers should help you design the perfect look and style of the "save the date," wedding invitations, RSVPs, place cards, menu cards, and guest book.
An experienced stationer should help you select the proper paper products and ensure that everything is sent out or set up in a timely fashion.
Caterer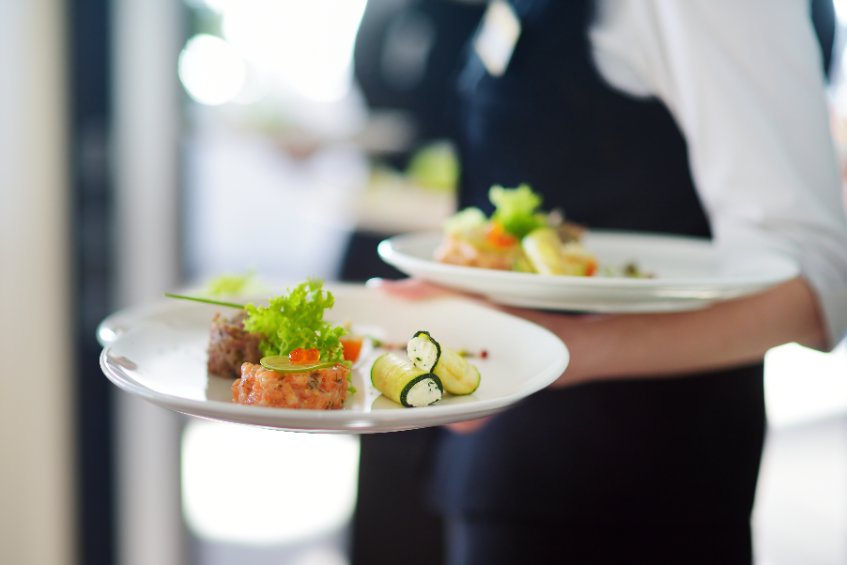 A must have on your vendors list is a good caterer to help keep you and your guests full and energized on the big day.
Select a caterer that will follow your desired plate presentation and menu items. A caterer will also advise you on the amount of food you'll need based on the size of your guest list.
It's important to note that some wedding venues will often times offer a wedding catering service as well. Going with this option might be more affordable and will give you one less thing to worry about during your planning process.
Cake Baker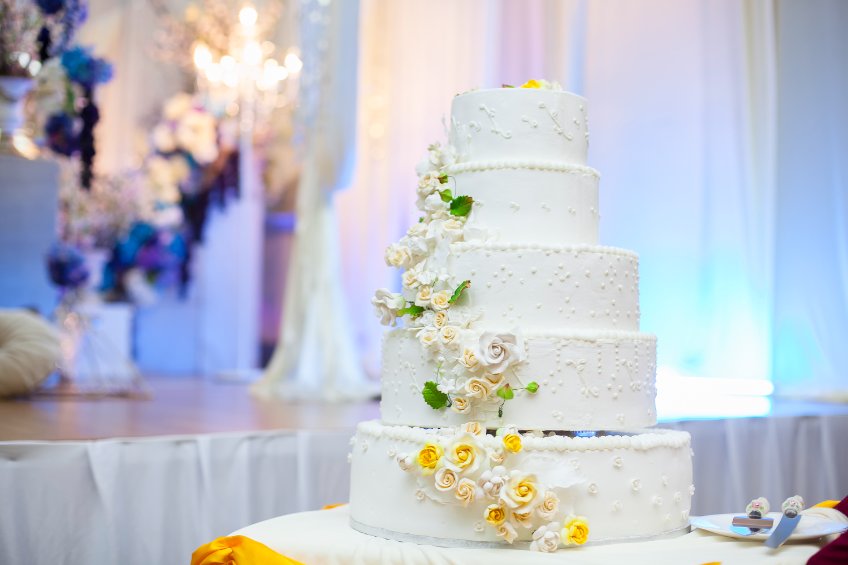 Some caterers have wedding cake baking within their services. If for any reason they don't offer it or you simply prefer to hire a separate cake baker, take your time and read up on customer reviews in Yelp.
Upon discovering the baker, make sure to visit them before ordering their cake for your wedding. Have an idea of your decorative style first and tell your baker what flavors your looking for when crafting the perfect wedding cake. Be sure to do some cake tasting to ensure that the cake tastes as good as it's going to look.
Florist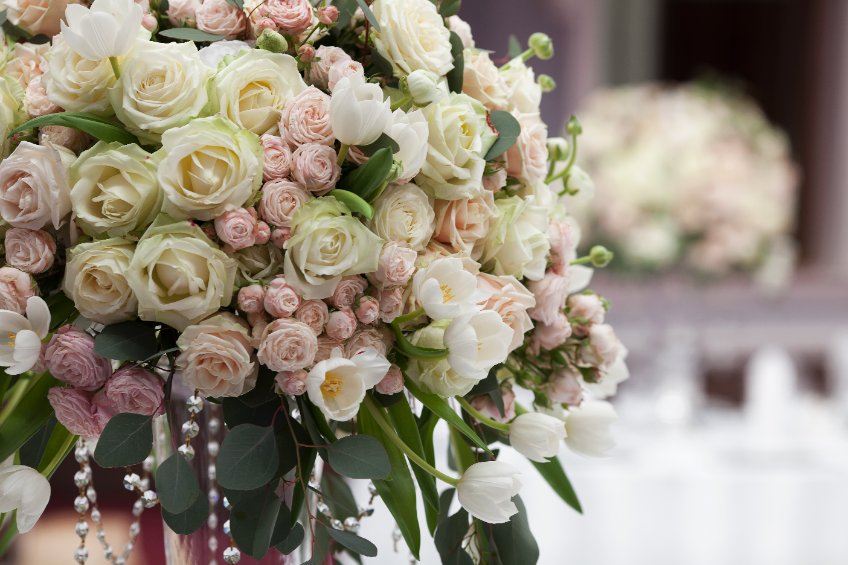 A dream wedding is never complete without extravagant floral arrangements. Regardless of your personal style, florists can help enhance your entire venue.
Flowers can be used to decorate the aisle or as centerpieces on reception tables. A florist will work with you to select flowers that are in season and within your budget.
Jeweler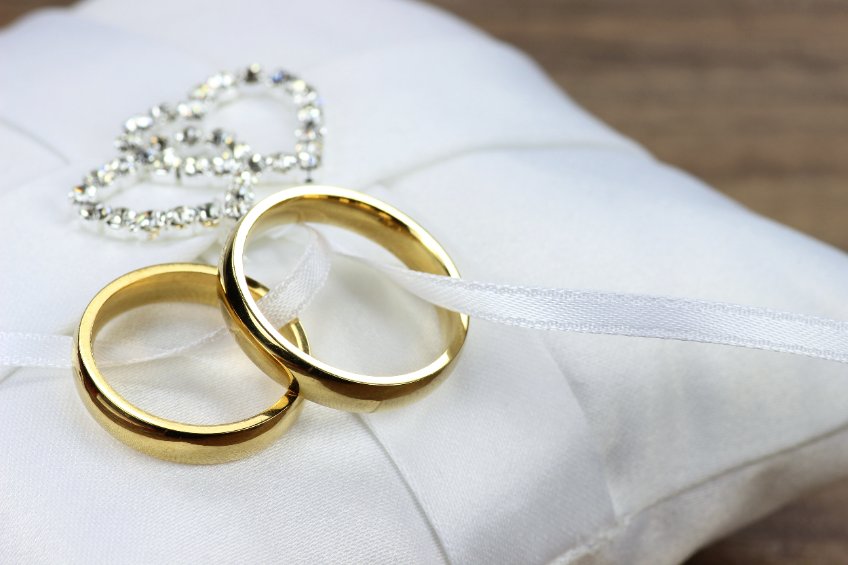 Your wedding bands are a critical part of your marriage or wedding ceremony. They symbolize the love you share with your spouse.
Search for a company that can be trusted and provide you with quality jewelry.
Hair and Makeup Artist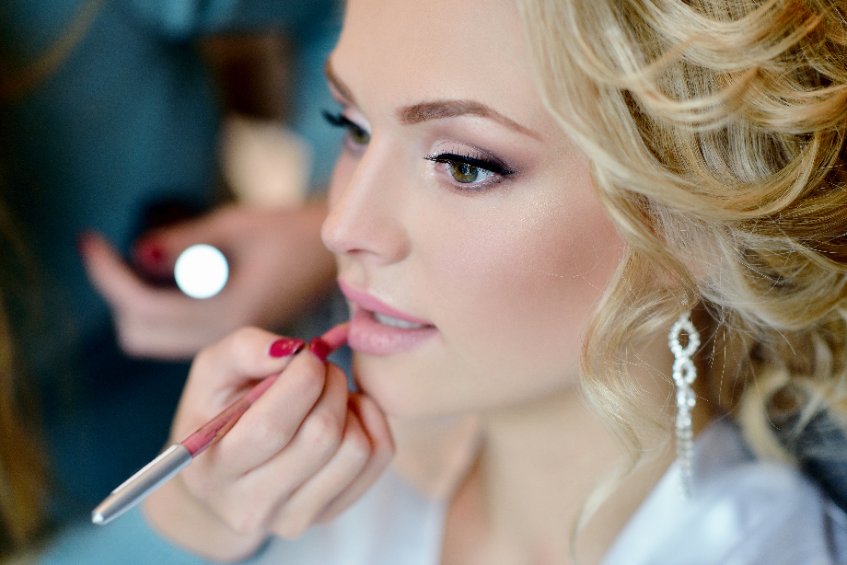 The last task in your vendors list is to hire a hair and makeup artist. Besides your dress, your wedding hairstyle and makeup should truly make you feel like royalty on your wedding day.
Hair and makeup might be done by the same artist. If not, look for those that can fulfill your needs and compliment your facial features.
Check between Pinterest and Instagram to draw inspiration from. You can also look at what kind of wedding hair accessory are often used or whether your idea in mind is a top trending wedding hairstyle . If you have a clear picture of what you want, you can easily find someone who will make it reality.
Consider Tipping Wedding Vendors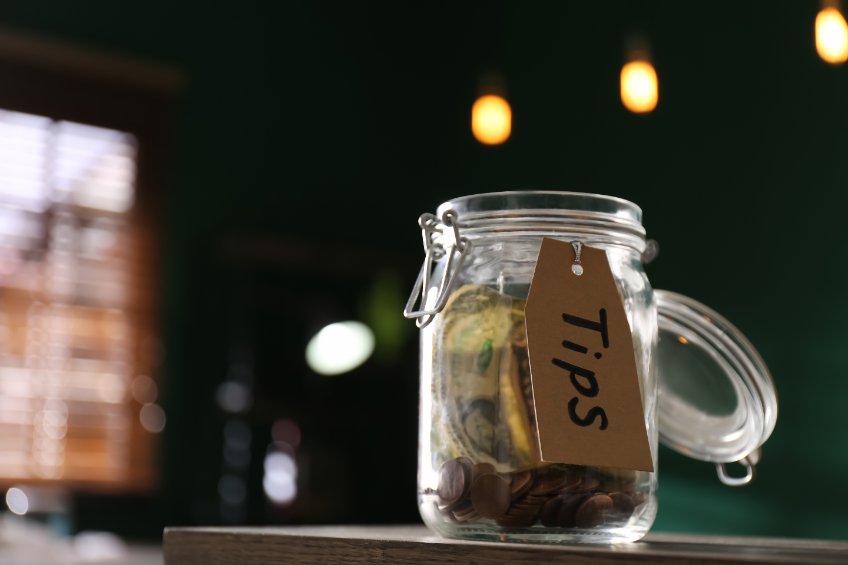 Once you have found your desired wedding vendors you might be wondering if all of these wedding vendors will be expecting tips. As a general rule, tipping wedding vendors is not mandatory.
With that being said you or your guests will likely be tipping wedding vendors who provide service with staff, like valet or bartenders, rather than to the owner of a business. Its important to note that some vendors include gratuity in the contract.
Tipping truly depends on your preference and situation.
For example, wedding planners do not expect tipping, it is optional, depending on service. If the planner who went above and beyond or you received big discounts, offer 10% to 20% tip as a good reward.
Or lets say your hairdresser and makeup stylist did an outstanding job and you've been getting compliments from all directions. You might feel very happy and want to share your happiness and acknowledge the amazing work they have done so you consider tipping them.
If tipping is not an option due to budget constraints, remember a glowing review is just as great!
Wedding Vendor Searching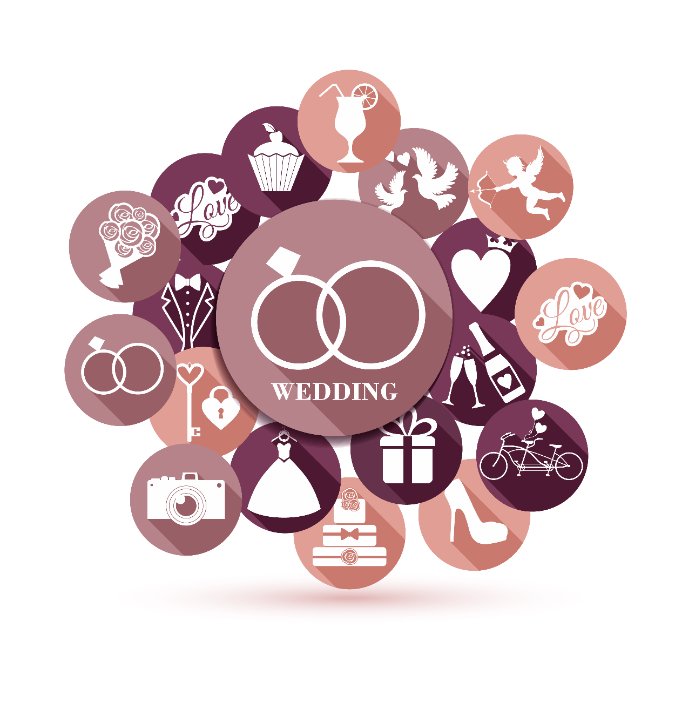 A good tip to finding a majority of your vendors is to ask your wedding venue for their own wedding vendor list. Most of the time they would give names that they were pleased with or vendors that are familiar with the venue from previous weddings. Other methods could include attending specialized events in the area or even contacting friends and family for recommendations. These can all certainly be good ways to start your search as you follow your wedding vendor checklist.