Welcome to the De Luxe Grand Ballroom, one of the best event venue in Los Angeles for wedding receptions, special occasions, and corporate events.
With three unique spaces that can accommodate parties of any size and budget, De Luxe offers a high-end atmosphere, exceptional amenities, and outstanding service for every event.
Capacity: Up To 400 Guests
Capacity: Up To 400 Guests
At De Luxe Grand Ballroom, you will be able to fully customize the décor, lighting, video, tableware, and furnishings. Our 4,300 square-foot grand ballroom in Los Angeles can comfortably accommodate around 400 guests. There are two framed, wall-mounted flat screens that can be programmed to display anything from movies to slideshows to static pictures. We have a custom LED lighting system, rotating crystal chandeliers, a spacious white dance floor, scented air, moving head spotlights, and a grand foyer. This 660 square-foot grand foyer is perfect for cocktail hour and comes complete with an open bar — which makes an impressive way to enter the grand ballroom!
Weddings At De Luxe Grand Ballroom
The De Luxe Grand Ballroom's décor, spacious white dance floor, sophisticated crystal chandeliers, and overall elegant ambiance make it one of the most sought-after wedding venue in Los Angeles. Its high ceilings and colored LED lights make the perfect backdrop for beautiful wedding photographs and videos, and our network of trusted decorators, bakeries, makeup artists, photographers, and professional entertainers helps to cut costs and streamlines the entire wedding planning process. Let us help make your wedding day dreams come true. Contact De Luxe Banquet Hall today!
Our Grand Ballroom Is Perfect For
Contact Us Today To Start Planning Your Event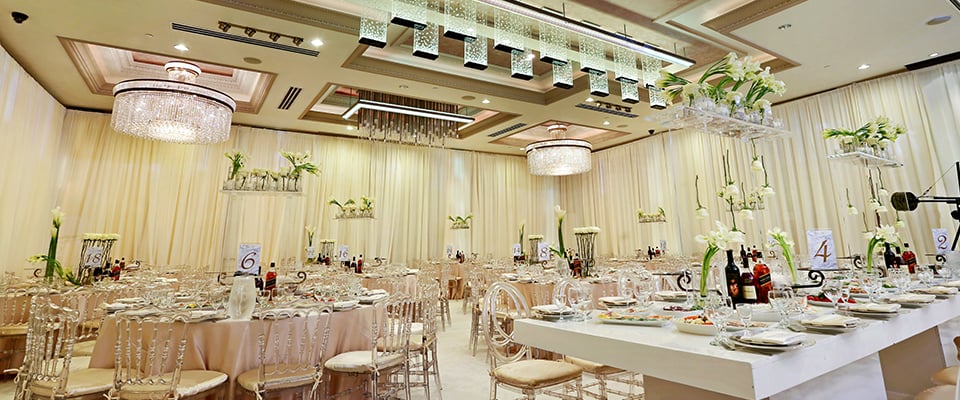 At De Luxe Banquet Hall, we want to exceed every expectation when it comes to your event, regardless of your budget. By offering endless ways to customize the ballroom's décor, furnishings, lighting, technology, and catering, we guarantee that your event at De Luxe will look, sound, and taste exactly as you always imagined.
Technological Capabilities
In addition to the De Luxe ballroom's colorful LED lights and intelligent moving head spotlights, it also features two framed, wall-mounted, flat-screen TVs. These crystal-clear, high definition screens can be programmed to display anything you would like, from movies to logos to slide shows to static pictures.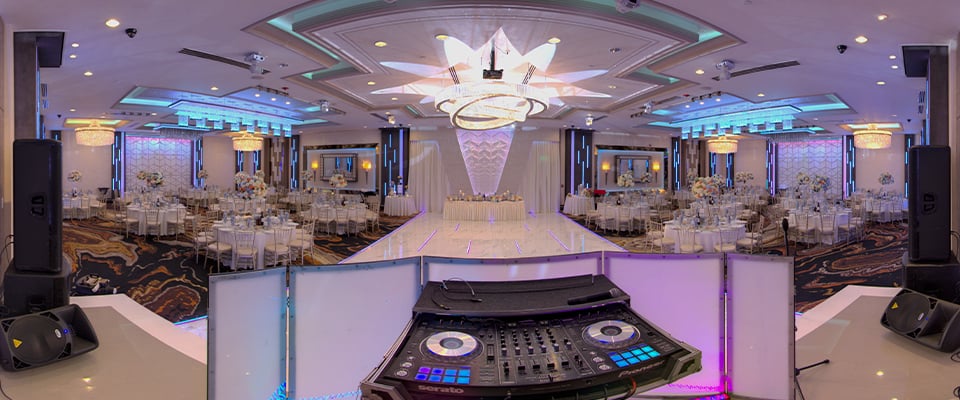 Our Adjacent Venues For You To Consider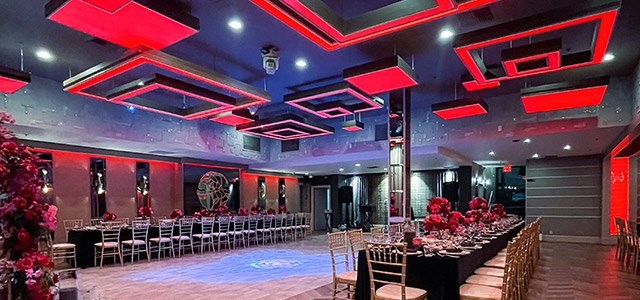 When you want the ultimate space for small to mid-size events, Olivia Event Venue is the ideal choice. Our venue is absolutely perfect for birthdays, small wedding receptions, company events, christenings, and any other type of special occasion. Olivia began as a Mediterranean restaurant, so the food is exceptional, with plenty of options for catering. The atmosphere is modern and energetic, with customizable amenities to personalize your event.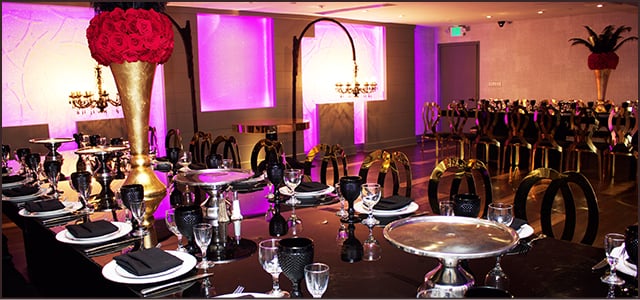 For a high-end, sophisticated gathering, consider hosting your event at one of the most intimate event venues in Los Angeles, the De Luxe Lounge. Tucked away within the De Luxe Grand Ballroom, it's the perfect space for birthdays, showers, and much more. With top-of-the-line amenities, beautiful décor, excellent catering, and a luxurious atmosphere, the De Luxe Lounge will make the perfect setting for events of smaller sizes.
Why Choose De Luxe Grand Venue In Los Angeles?
When you work with us at De Luxe, you will see the vision you have for your event become reality as our specious grand venue that is only few mils away from city of Glendale. In addition to our stunning décor and customizable lighting options, you will also have access to our wide variety of event vendors, including bakers, florists, and entertainers. The party planning process can be fun instead of frustrating — you just need the help of the experts! So visit our banquet halls today, and allow us to help make your plans come to life.