Social Event Rental Halls
Spending a special day or evening surrounded by the people you love while celebrating a new chapter in life is a special experience, and at De Luxe, we work hard to make this everything it should be. For years, De Luxe Banquet Hall has served the Los Angeles community as an elegant backdrop for social events. Hosting a family or social event in a place like Los Angeles is uniquely challenging because the city's resources and surrounding towns are quite spread out and far-flung. However, De Luxe's rental halls are nestled in a charming, light-traffic area with plenty of nearby freeway access, making it within comfortable traveling distance of the Burbank airport and several upscale hotels. Below are the types of celebrations that we have successfully hosted at De Luxe Banquet Hall.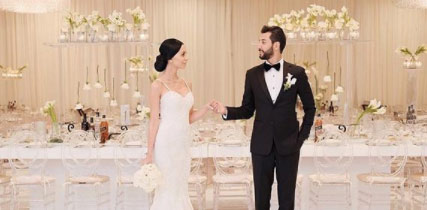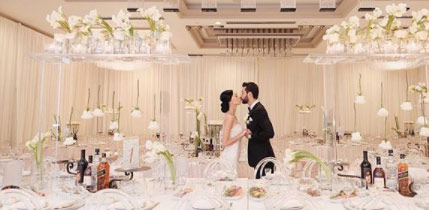 Rental Halls for Wedding Receptions
Weddings are one of the most frequently booked events at De Luxe Banquet Hall. Whether it's the actual ceremony or the reception celebration afterward, wedding events hosted with us are beautiful and memorable. De Luxe rental halls have elegance, incredible catering, and grand accommodations to make your event truly special. Visit our wedding venues, and discover some inspirational decorations.

Contact Us Today To Start Planning Your Event.

Baptisms & Christenings
While baptisms & christenings are traditionally held in a church, the celebrations afterward are usually held in an event space rental to accommodate celebrating. At our venues, we're happy to help you mark this special occasion with family & friends with our service, atmosphere, and delicious cuisine. Whether your guest count is small or large, one of our three spaces will work beautifully for this special celebration!

Whether you want a sophisticated, formal birthday dinner or a splashy, themed bash with lots of décor, our team can accommodate your birthday vision. No matter if you're turning 15, 21, 30, 40, 50, or 100, De Luxe is perfect for your party! From the menu to the entertainment, we're happy to help bring your birthday plans to life!

Anniversaries
Milestone wedding anniversaries are extraordinarily special events, and celebrating the love that has endured so many changes in life should be done in style. Choose one of our three party halls for rent to host your wedding anniversary party, and you'll see how we can help you have a celebration that makes you feel like you're getting married all over again!

Baby & Bridal Showers
Gifts, games, and fun with family and friends are perfectly at home in any of our elegantly-decorated venues. Small events like bridal showers and baby showers are often a perfect fit for the De Luxe Lounge or Olivia Event Venue, which are perfect for smaller guest counts and feature a full bar, DJ booth, and custom lighting options.

A young lady's fifteenth birthday celebration should be unforgettable. Our three party salons for rent make a stylish setting for quinceañeras, accommodating anywhere from 50 to 420 guests and offering spacious seating, dining, and dancing areas for your extended family, friends, and neighbors to share this occasion! The team at each of our venues will also be happy to help you customize the space to match any theme.

As one of the most important birthdays in a girl's life, Sweet 16 parties call for lots of décors, a great dance floor, energetic entertainment, and outstanding food. At our venues, we take care of all of it! Let us help host the perfect Sweet 16 for your special girl, transform our spaces to match her unique theme, and make her birthday dreams come true.

Bar & Bat Mitzvahs
Every parent wants to give their child a bat mitzvah or bar mitzvah celebration to remember. At our party rental space, we provide the décor, service, and any size space necessary to make your bar or bat mitzvah ceremony and celebration absolutely perfect. Our venues offer beautiful, rich architecture and a fun environment to make these special events truly special.

Graduation Parties
Choosing one of our three upscale party rooms for rent for graduation parties provides the celebratory atmosphere and spacious accommodations that this special occasion truly deserves! Whether you want a smaller lounge setting or a large banquet hall backdrop, the charm of our spaces works perfectly for your graduation party. Our party halls are the ideal choice for one graduate or a whole class!