There's nothing worse than having disappointed guests when it comes to the food for your wedding. On top of having a great wedding venue, an experienced catering service is important to satisfy your guests. You have so many options on what to include in your menu and service for your special day. Our team came up with these important factors you have to know before you choose that perfect wedding catering service.
After reading this article, we hope you have a clearer vision of what cuisine and service you want to showcase to your guests.
Why is a Catering Service Important For Your Wedding?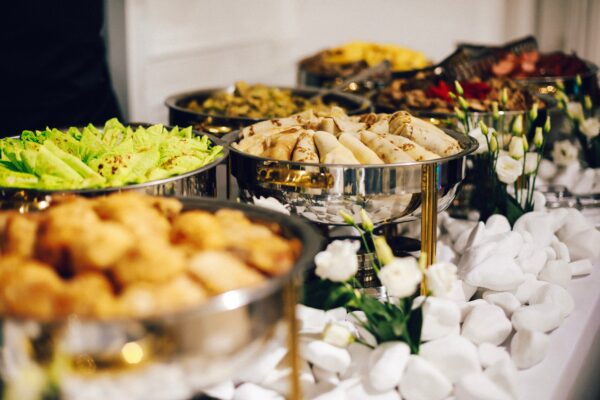 An event catering service is tremendously important in satisfying your guests and making your wedding perfect. When planning out a wedding of any kind, there is always food involved. You can't have fun on an empty stomach, especially when celebrating a new chapter of your life.
Having a renowned catering service that gives you and your guests superior value should not be looked over. Make sure to sit down and really think about your options.
De Luxe Catering Experience 
Our catering services will make sure to accommodate your guests of any size and work with your wedding vision. We have years of experience in planning fully customizable menus and delivering fantastic culinary service. With our expert coordinators and talented chefs, we'll make sure to work with you every step of the way to deliver the best event catering service for your special day.
From Mediterranian delicacies to American cuisine, De Luxe catering has you covered. 
The Size of Your Wedding
Knowing the number of people that are going to attend your wedding is essential when deciding to choose an event catering service. If you're having a large wedding venue with more than 300 people, it's probably best to have a buffet-style wedding to fit everyone's accommodations. Smaller and more intimate wedding venue gatherings can be best served with a family-style dining experience so they can feed themselves.
Whether it's outside or in-house catering service, the number of people at the wedding will determine how much food will need to be made. It's always a good idea to have extra servings of food, rather than running out before everyone is fed. 
What Speciality Are You Looking For?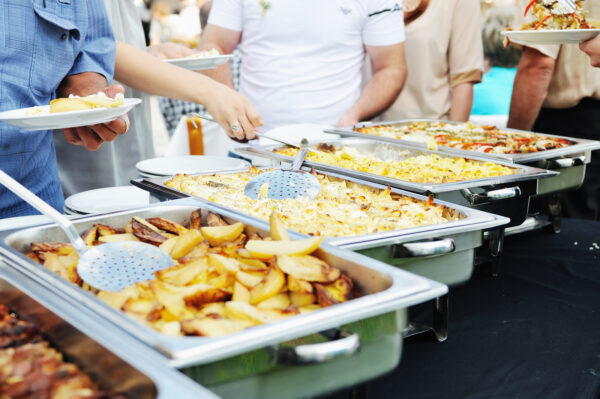 Every catering service, whether that be from a vendor or in-house, has a specialty. Decide what type of food you would like to be on the menu for the reception. Pinpointing the exact type of culinary cuisine will help you decide the best option for catering.
After choosing your cuisine specialty that you would like to serve for your wedding, make sure to ask your in-house catering wedding venue if they specialize in that option. Some venues might offer a steep discount to their clients and offer extra incentives. It's always a good idea to save money at a wedding. 
In-house Catering vs Outside Vendor?
There are key differences when hiring an in-house catering service compared to an outside vendor. Here are some factors you need to think about choosing the right one. 
In-House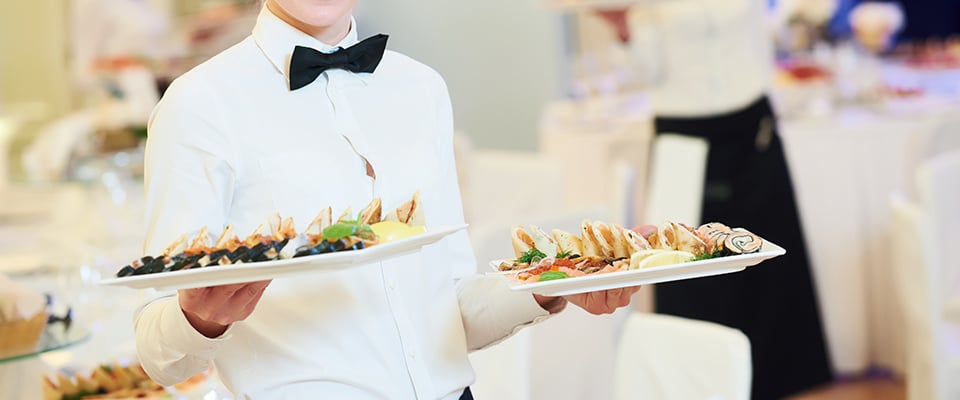 When choosing this option, keep in mind that not every in-house catering is the same. Some venues are limited to the customization of their service, while others are more open. Make sure to talk with your wedding planner and schedule to have a conversation about the overall experience of hiring their in-house service.
As I mentioned before, in-house catering services can also be a way to save more money if the venue offers a packaged deal. Negotiating the price of renting the venue, can save you more money than hiring an outside vendor.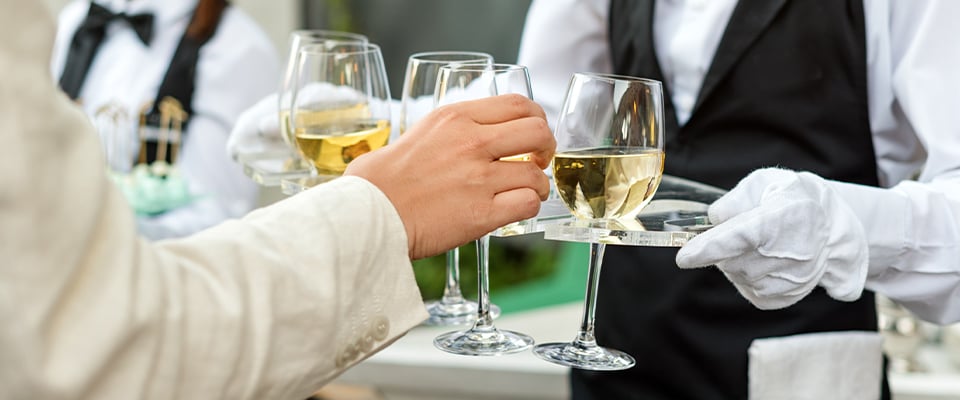 Another point of hiring the in-house service is that they work well together with the venue operations. There is more communication when the food will come out, where the tables are located, the seating arrangement style, and the overall theme of the wedding.
This will take more pressure off your plans since everything is getting planned out by the venue itself. 
Outside Vendors
One of the best reasons to hire outside vendors is the options and specialties they have. Since specific catering services do it full-time, they put all their efforts into creating a niche menu that tastes great. You also have so many options in place when thinking about the type of food you want to serve.  There are literally thousands of catering services that you can choose from.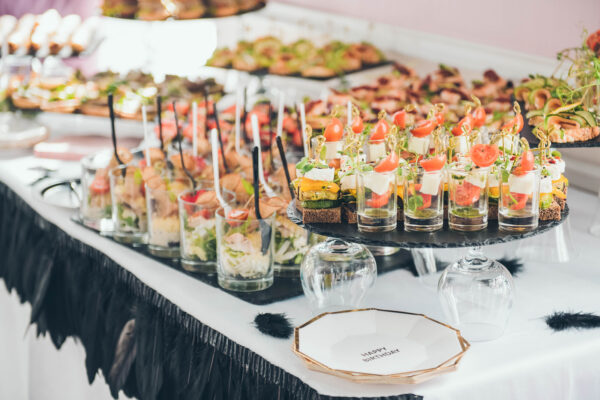 If you went to a wedding where you loved the food, you have the option of getting the same experience. Make sure to let your venue know if you are using an outside vendor as a catering service since this might include additional fees.
Although outside vendors might not pick perfectly when it comes to your wedding plans, it can be made up by their quality of food preparation. Hiring a professional and raved catering service will make sure you and your guests are satisfied with the delicious cuisine. 
Customize Your Menu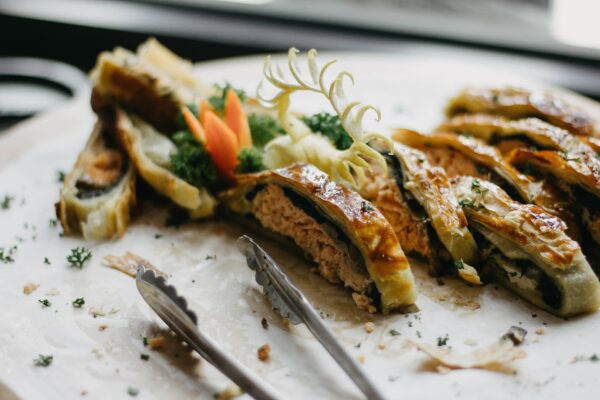 Choosing a specialty to feature on your menu does not mean that your job is done. Have a plan in place in what specific dish you want to be served as an appetizer, main course, and dessert. If you are looking for more of a family buffet style, think about the amount of food you want to serve and the balance you want in your dishes.
You don't want to serve a buffet where it's just mostly carbs. At the same time, you don't want to have food that lacks protein. Think about what your guests would like and enjoy as they celebrate late through the night.
Finding the right balance of theme, options, and delicious tastes is important. Really think about what your overall vision is with your menu and write down a list of dishes that you surely want to have. Don't let the stress of customizing your menu take up most of your time, let our experts help you in making sure your vision comes to life!
Schedule A Tasting Day
When your menu is fully customized and complete, make sure to schedule a taste test day to make sure everything is to your liking. Doing so will make sure you see everything before your special day. Look for topics like food appearance, theme vision, and overall taste when booking your appointment.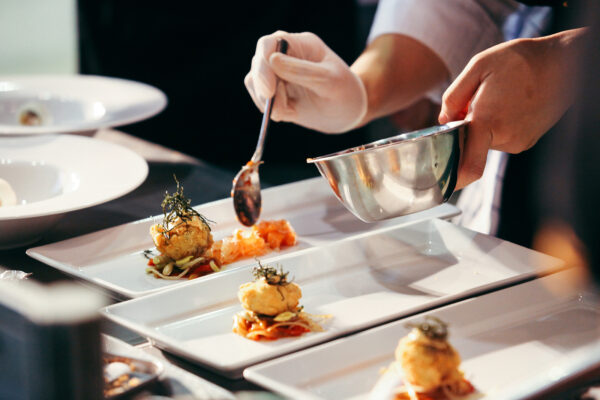 The clearer the vision you have for your event catering service, the better it will be for your wedding planners and venue to get exactly what you want. A tasting day is a great time to constructively critique the overall menu.
Remember not to be afraid to talk about your recommendations because it is your wedding. 
Ask Your Friends and Family
Have you ever gone to an event or wedding and loved the food? Make sure to ask your friends and family for recommendations when it comes to choosing a catering event service for your wedding. This can narrow down your options and save you time in planning out your wedding.
Make sure to mention to the caterer your theme and overall vision for your wedding. If your friends and family have any connections in the industry, you can even receive a great deal out of it. 
Conclusion
There you have it! Choosing the perfect event catering service for your wedding doesn't have to be a stressful and time-consuming affair. Planning out and really creating your overall vision of your wedding is important. While you celebrate your new chapter of life, make sure you have some great food to go along with it. Great food makes for an unforgettable wedding day.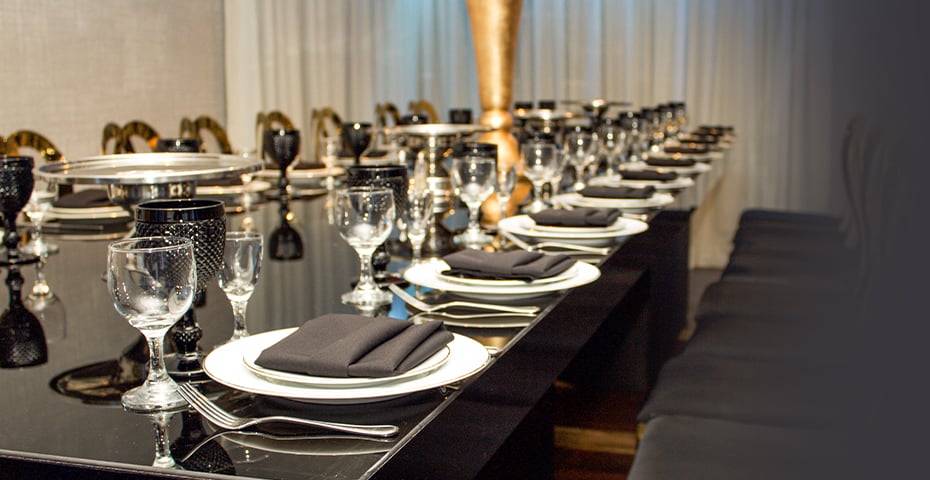 If you have any questions about our catering services or wedding venue, make sure to contact us! We will happily answer any questions you may have.