Olivia Event Venue
Olivia Event Venue caters exclusively to medium-sized events of about 150 guests. If you're looking for a venue in the Los Angeles area with a truly incredible menu, Olivia will definitely satisfy your cravings. Olivia Event Venue also features modern décor, custom LED ambient lighting, outstanding service, and dazzling dance floor make it the ideal place to celebrate your special event. We specialize in milestone birthday parties, business parties and meetings, and intimate wedding receptions.
BOOKING INQUIRY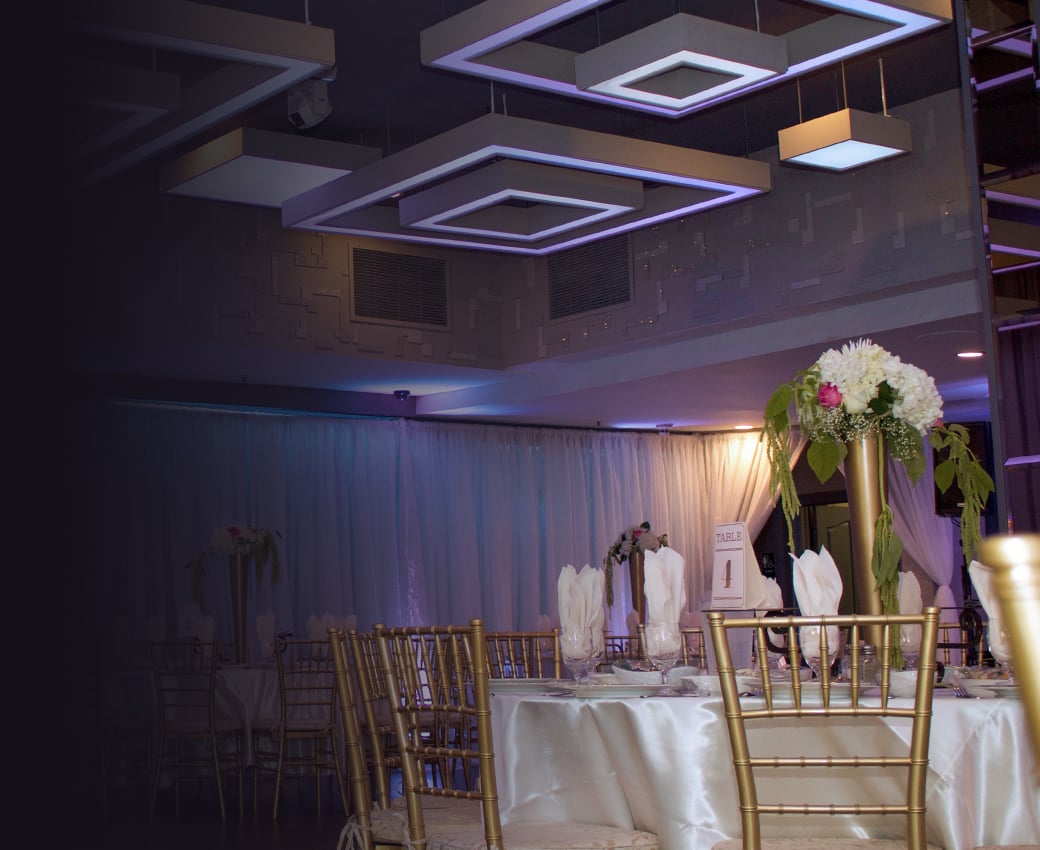 Amenities
Olivia's main room is 2,300 square feet, making it just the right size to comfortably accommodate 150 guests. One of the first things that most guests will notice is our beautiful glowing LED lights, which can be customized to match the colors, theme, or tone of your event. We also have fully customizable linens, flatware, and other décor. We are proud to provide a large dance floor where your guests can dance the night away, as well as a full cocktail bar. Olivia truly has everything you need for your special event.
Capacity: 55 Guests
Venue Specs
Venue Size: 2,300 SqFt
On-Site Catering
Outside Catering
Lighting And Video
Full Bar
Special Occasions At Olivia Event Venue
At Olivia, we know that selecting the right music is very important for your party's success, which is why we offer an extensive network of music and entertainment professionals to choose from. We have a fantastic selection of lounge singers, live bands, DJs, and belly dancers to fill your reception, bar mitzvah, quinceañera, retirement party, or bridal shower with energy and enthusiasm:
Contact Us Today To Start Planning Your Event.
(818) 955-7777
BOOKING INQUIRY
De Luxe Ballroom Is Perfect For:
Special Occasions
Bridal Showers
Bar/Bat Mitzvahs
Baby Showers
Quinceañeras
Graduation Parties
Birthday Parties
Celebratory Dinners
Anniversaries
Corporate Events
Business Mixers
Holiday Parties
Retirement Banquets
Networking Functions
Retirement Banquets
Company Meetings
Fundraising Galas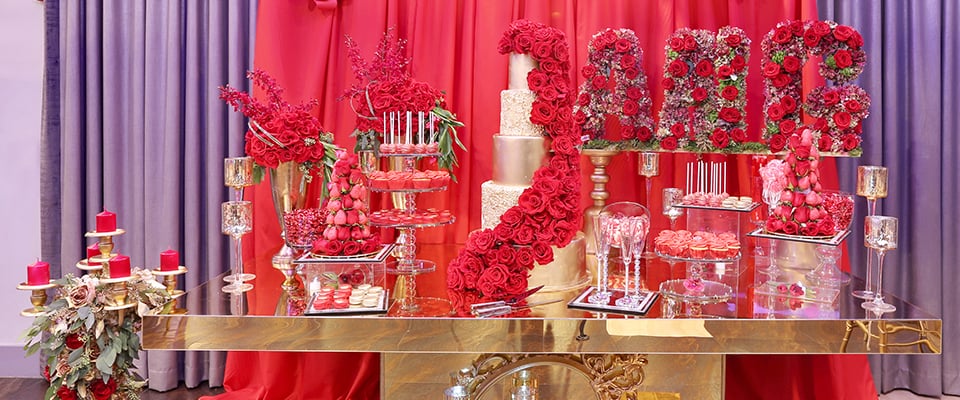 Customizable Experience
In addition to a fully customizable LED lighting that emanates from the walls and ceiling, Olivia Event Venue offers your choice of seating arrangements, furniture, tablecloths, flatware, catering, drinks, and entertainment. For a truly unique experience, take advantage of our affiliate decorators, makeup artists, photographers, bakeries, musicians, ice sculptors, and more.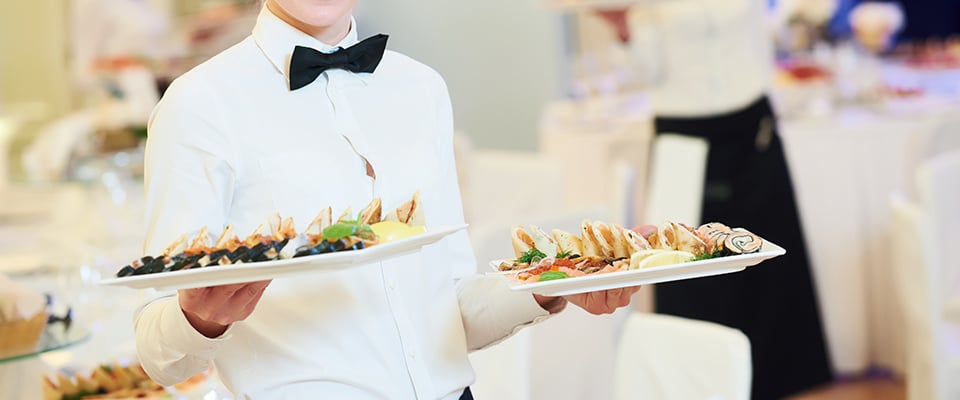 Unsurpassed Service
Our team at Olivia Event Venue is dedicated to providing every party with the best service in Los Angeles, regardless of the size or nature of your event. Our professional service staff is trained to anticipate the needs of every guest, while our experienced event coordinators work closely with each client to make sure that all expectations are met and exceeded.
Our Adjacent Venues For You To Consider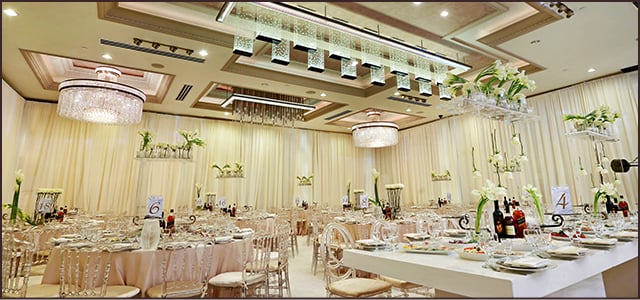 De Luxe Ballroom
The De Luxe Ballroom provides enough space for your 400 guests to comfortably dine, dance, and party the night away. With customizable amenities, world-class catering, and fabulous décor, the De Luxe Ballroom has made a name for itself as one of the Los Angeles area's premier event venues. We offer five-star service with outstanding management and a highly skilled staff to ensure your event goes smoothly.
Capacity: 400
Explore Venue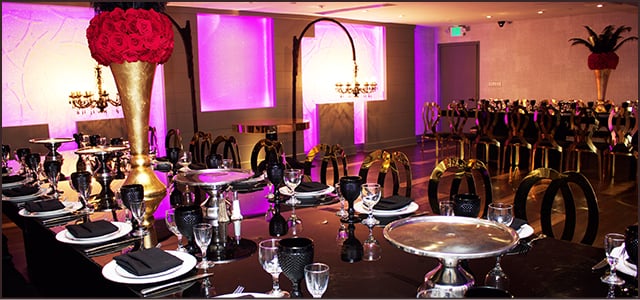 De Luxe Lounge
Tucked away nearby the adjoining De Luxe Ballroom, the De Luxe Lounge offers an entirely separate space for more intimate events. The De Luxe Lounge creates the perfect setting for smaller gatherings, including birthday dinners, baby/bridal showers, christenings, retirement parties, and much more. When you want your special occasion to feel intimate yet luxurious, the De Luxe Lounge is the perfect choice.
Capacity: 55
Explore Venue
Why Choose Olivia Event Venue?
At Olivia Event Venue, we pride ourselves on providing excellent customer service. Our team is dedicated and hardworking, and we are always quick with our communication.
Our state-of-the-art kitchen prepares gourmet cuisine served in any style you choose: hors d'oeuvres, family style, buffet style, single-plate courses, or a combination of these.
Olivia Event Venue can also be customized to accommodate almost any theme, floor plan, and itinerary — all while satisfying your taste buds.