The wedding guest book is a very traditional component of weddings and its purpose is to give the bride and groom a lovely keepsake of notes from their wedding guests. However, it often gets placed in a box in a closet and is left to collect dust over the years. Many brides have chosen non-traditional ways to record their guests' attendance that they feel is more authentic to them and they will actually look at over the years.
Here's some inspiration to get you thinking about the many unique alternatives to the traditional wedding guest book: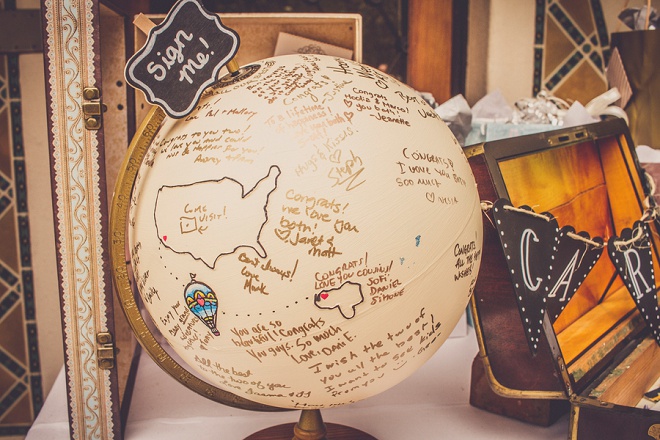 Vintage Globe
Travel lovers can showcase their wanderlust spirit and mark the locations they've traveled together as a couple to all their wedding guests. This is also a cute option if the bride and groom were originally from different states or parts of the world. Have guests write their names over their hometown or their favorite vacation spot!

Vintage Books
Book worms—this one's for you! Choose a classic romance novel or book of love poems for guests to sign their names by their favorite verses.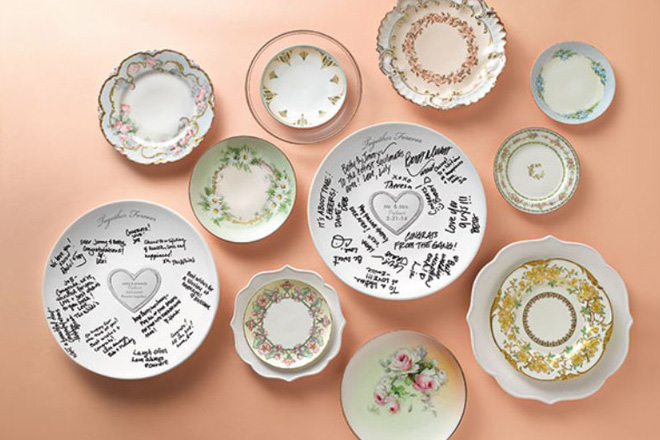 Antique Plates
Vintage china is a classic and romantic touch to all kinds of weddings. If you would love to bring these plates into your home after the wedding, what a great idea to have your guests sign the plates and then hang them on your walls!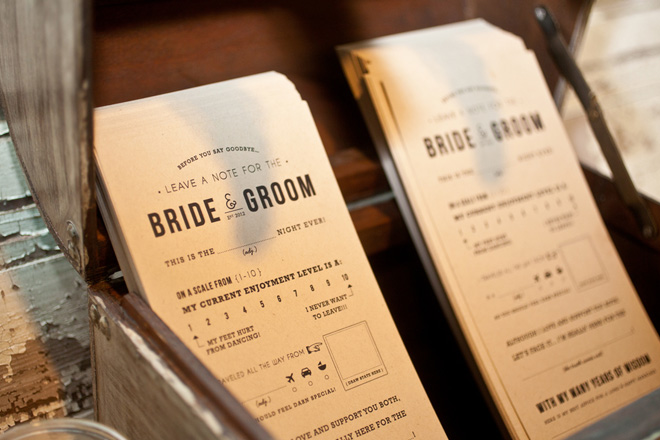 Mad Lib
Who didn't love mad libs as a kid? You can enjoy them all over again by having your guests sign a mad lib-like wedding questionnaire. You and your spouse will be cracking up as you read these pages and you can compile them together to create a book you can enjoy again and again.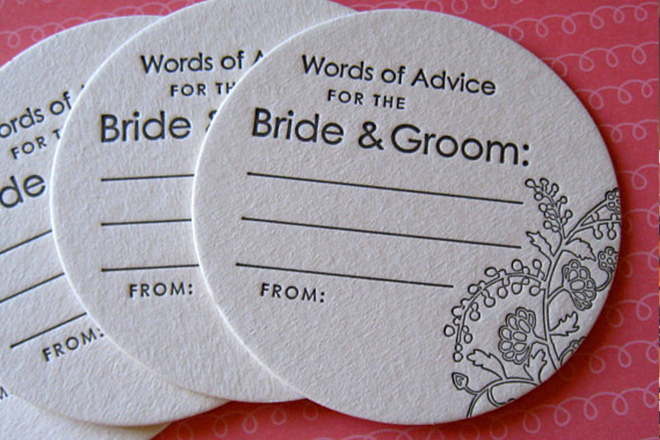 Advice Coasters
Rather than just having guests sign their names, you can have each person write a little piece of advice for the bride and groom. Once you arrive home from your honeymoon, you will have a blast reading through what your friends and family wrote. And you will definitely use these special coasters as you sip wine and celebrate your new married life together.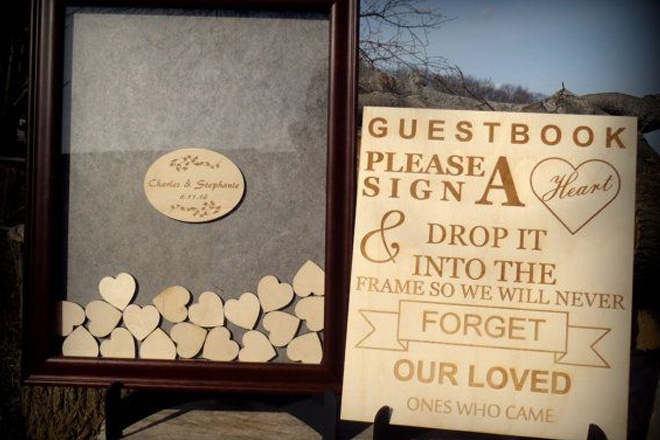 Shadowbox with Hearts
Similar to the plate idea, this idea is great if you want to hang your guest book on a wall and be reminded of your special day every day. Small wooden or paper heart cutouts are signed by your guests and then dropped into a wooden shadowbox. The hearts won't overlap each other but instead stack up to fill the shadowbox.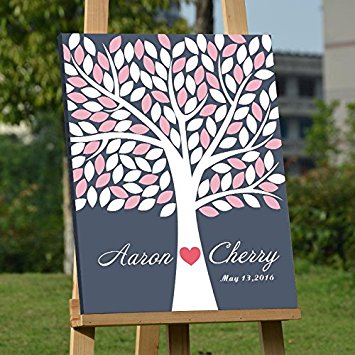 Personalized Print
You can paint a tree on a large canvas or wood and have paint set beside it for your wedding guests to stamp their fingerprint on to form the leaves of the tree. Another idea is to have you and your future spouse's prints enlarged on a print and have all your guests place theirs around yours and to simple sign their names. And you aren't limited to trees; a peacock with fingerprints as the feathers is a fun and unique alternative that would look great hanging on a wall in your home.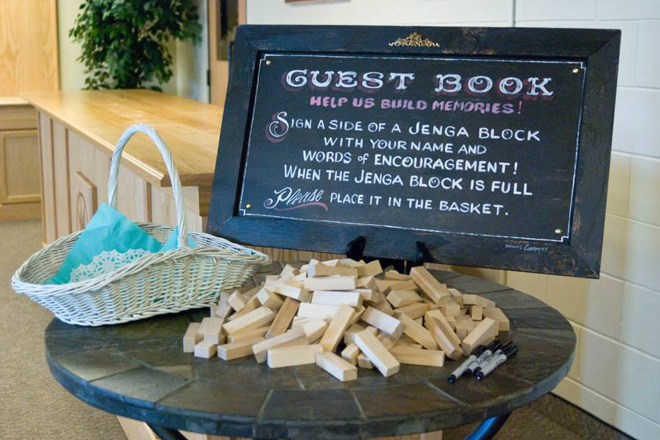 Game Board or Jenga Blocks
If you and your future spouse love hosting game nights with friends and family, having guests sign a favorite game board or on the individual Jenga blocks will be a fun representation of your interests. Each time you bring out Monopoly, Jenga, or your favorite game, you will remember all the warm sentiments from your wedding.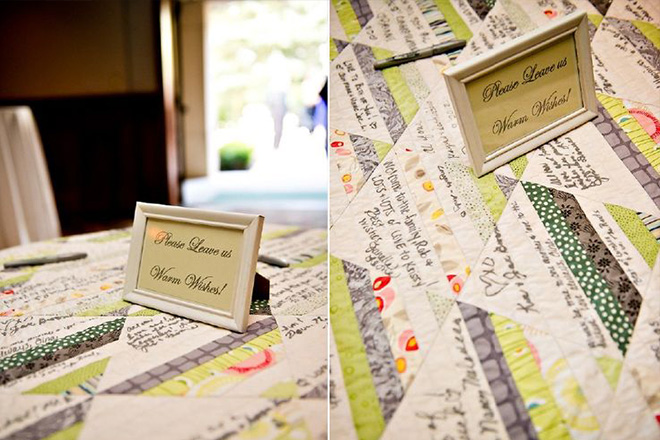 Quilt
What could be a better representation of the warm memories and love you'll be feeling on your wedding day than to cozy up with a signed quilt from your guests? Each time you wrap up, you can read what your guests wrote and feel that much more warm and cozy inside.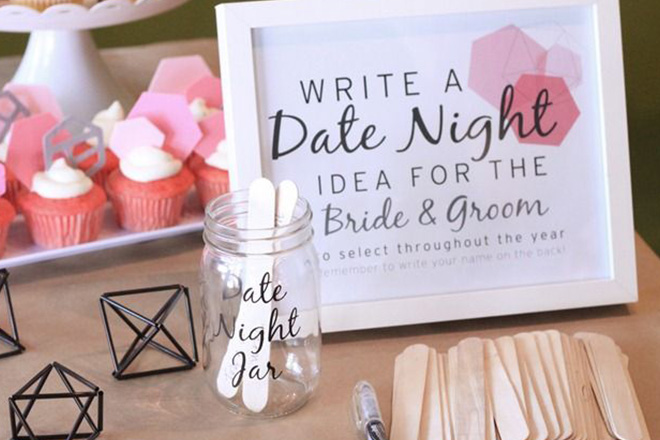 Date Night Jar
Make it easy for you and your new spouse to decide on what to do for date night by having your guests write their suggestions on blank pieces of paper, and either placing them in a jar or in a box. This is an easy and inexpensive DIY that will provide big fun in the future.
When it comes to your wedding, make it unique to you and your sweetheart. Find a wedding guest book idea that you love and you know you will cherish for years to come.
For a luxurious venue to bring your unique wedding guest book to, visit the website of the De Lux Banquet Hall. None of your guests will forget your wedding reception nor the unique touches you bring to it.