Los Angeles Wedding Venues And Reception Halls That Are Perfect For Weddings Of All Sizes
As an award-winning wedding venue in Los Angeles, De Luxe provides upscale and romantic event spaces which are fully customizable, delicious in-house catering, and attentive, professional service for wedding ceremonies, receptions, bridal showers, and engagement parties of all types and sizes. From the magnificent luxury of the De Luxe Ballroom to the trendy cozy Olivia Event Venue, we guarantee that our venues' hand-crafted furnishings, unique architecture, and glamorous LED lighting will create the perfect setting for your big day. Also, for out-of-town wedding guests, our wedding venues are conveniently located in the heart of downtown Burbank, close to I-5 and the Burbank Airport, and are just blocks away from several upscale hotels and many popular restaurants.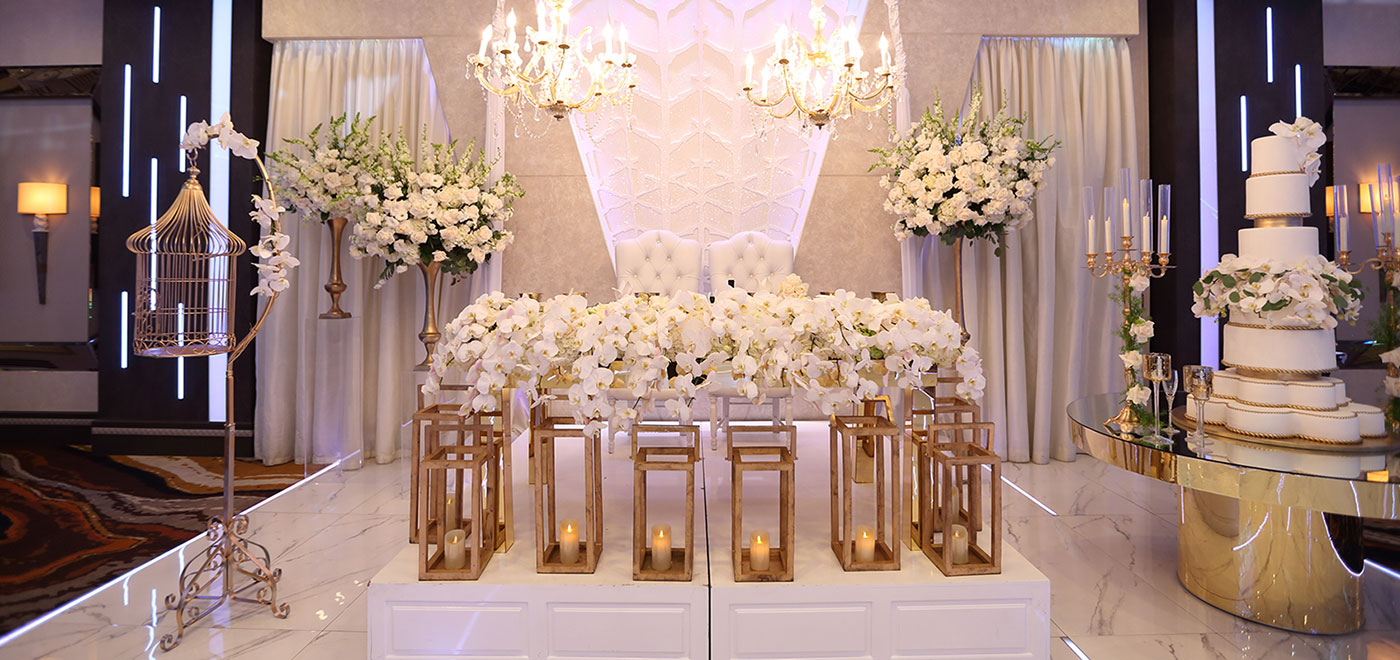 Customize Our Venue For Your Wedding
At De Luxe Banquet Hall, we believe that every aspect your big day should reflect the vision you have for your wedding. To create the perfect setting to match the tone of your special day, we offer clients the opportunity to customize each of our event spaces, including (but not limited to) :
Rearranging the tables and chairs
Redecorating the walls
Changing the tables, chairs, and flatware
Customizing the dance floor
Choosing spotlights to accentuate table centerpieces
Adjusting the interior LED lights to match your wedding theme
And much more!
For wedding photos and videos that you'll treasure forever, the De Luxe Ballroom is unrivaled in opulence, beauty, and accessibility. Our Italian-inspired hall features a spinning crystal chandelier for "starlight" first dances, gorgeous hand-crafted furnishings, custom molding, and ambient LED lighting to create the ideal backdrop for every picture, while the high ceilings easy accommodate camera cranes for cinematic overhead shots. From large, extravagant ceremonies and receptions to intimate bridal showers, our wedding venues provide the perfect backdrop for every type of wedding celebration in Los Angeles. Contact De Luxe Banquet Hall today for pricing and availability.
BOOKING INQUIRY

Inspirational Wedding Decorations
To help couples visualize our wedding venue's unlimited possibilities, we've included a photo gallery of some of our favorite bridal decorations. Although not all of these photos were taken at De Luxe Banquet Hall, the décor depicted is well within the capabilities of our wedding coordinators and affiliate vendors.