Los Angeles Wedding Venues And Reception Halls
As an award-winning wedding venue in Los Angeles, De Luxe provides upscale and romantic spaces that are fully customizable. We also provide delicious in-house catering and attentive, professional service for wedding ceremonies, receptions, bridal showers, and engagement parties of all types and sizes. From the high-end atmosphere of the De Luxe ballroom to our trendy Olivia Event Venue, we guarantee that our Los Angeles wedding venues unique architecture and energetic LED lighting will create the perfect setting for your big day.
Also keep in mind that for your out-of-town wedding guests, our wedding venues are conveniently located in the heart of downtown Burbank, close to the I-5 and the Burbank Airport, and are just blocks away from several upscale hotels and many popular restaurants. Come see why De Luxe has a reputation for providing the best wedding reception halls in Los Angeles!
Two Of Our Luxurious Wedding Reception Venues To Choose From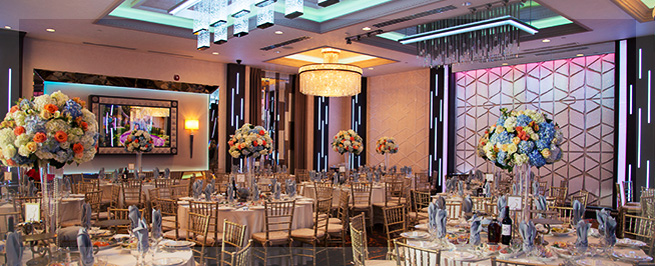 With space to comfortably accommodate up to 400 guests, the elegant De Luxe Ballroom is perfect for larger wedding receptions. We offer plenty of excellent amenities, and we are able to work with you so that the space is transformed to match the unique vision you have for your big day.

Spacious yet intimate, classic yet modern: Olivia Event Venue is one of the few affordable wedding venues in Los Angeles if you want to host a mid-sized wedding in style. Our elegant atmosphere, excellent catering, and superb service are sure to impress you and your guests and give you memories to last a lifetime.
For wedding photos and videos that you'll treasure forever, the De Luxe ballroom is unrivaled in opulence, beauty, and accessibility. Our Italian-inspired reception hall features a spinning crystal chandelier for "starlight" first dances, gorgeous hand-crafted furnishings, custom molding, and ambient LED lighting to create the ideal backdrop for every picture. For videography, our high ceilings easy accommodate camera cranes for cinematic overhead shots. From large, extravagant ceremonies and receptions to intimate bridal showers, our Los Angeles wedding venues provide the perfect backdrop for every type of wedding celebration. Contact De Luxe Banquet Hall in Los Angeles today for pricing and availability.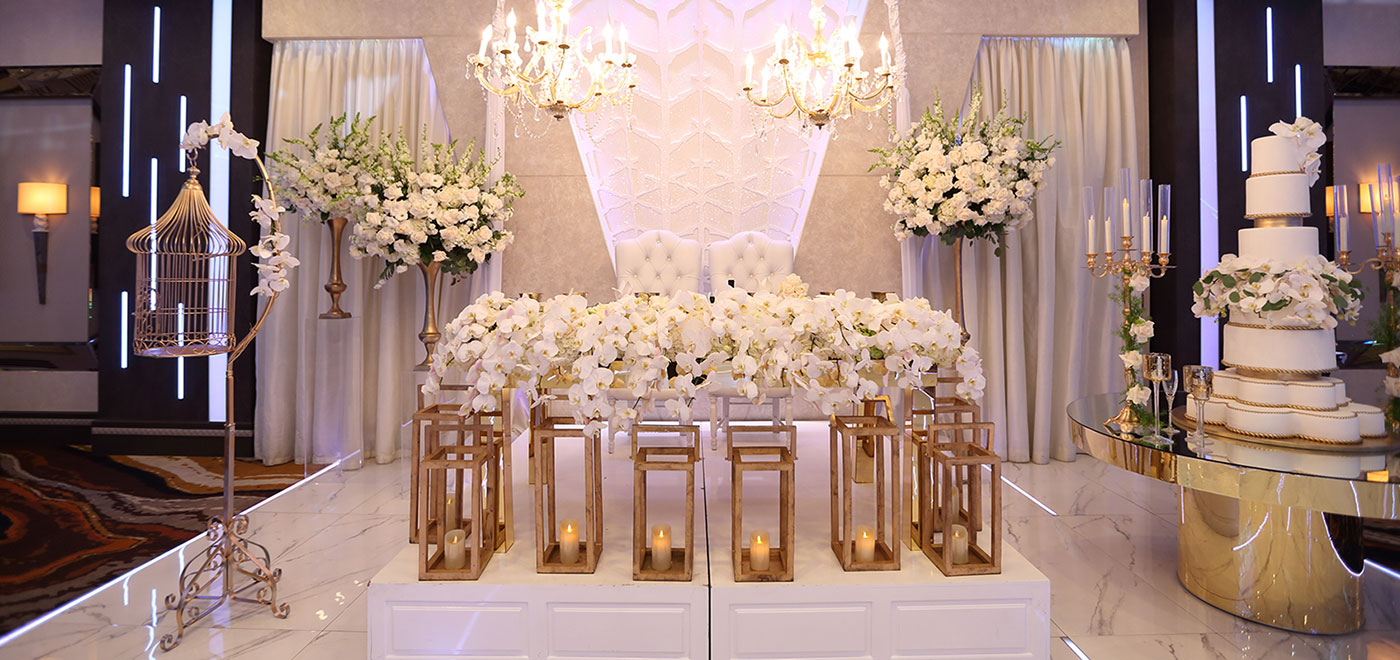 Customize Our Venues For Your Wedding
At De Luxe Banquet Hall in Los Angeles, we believe that every aspect of your big day should reflect the vision you have for your wedding. To create the perfect setting to match the tone of your special day, our all-inclusive wedding venues offer the opportunity to customize each of our event spaces, including:
Wedding reception halls in Los Angeles simply don't come more accommodating or beautiful than De Luxe Banquet Hall.
We love weddings! Each unique celebration that we have hosted at De Luxe has been full of joy and memories. We love seeing the plans take shape and the vision come together to create a truly stunning wedding day for our couples. Take a look at these highlights from the stunning weddings that we have hosted at De Luxe.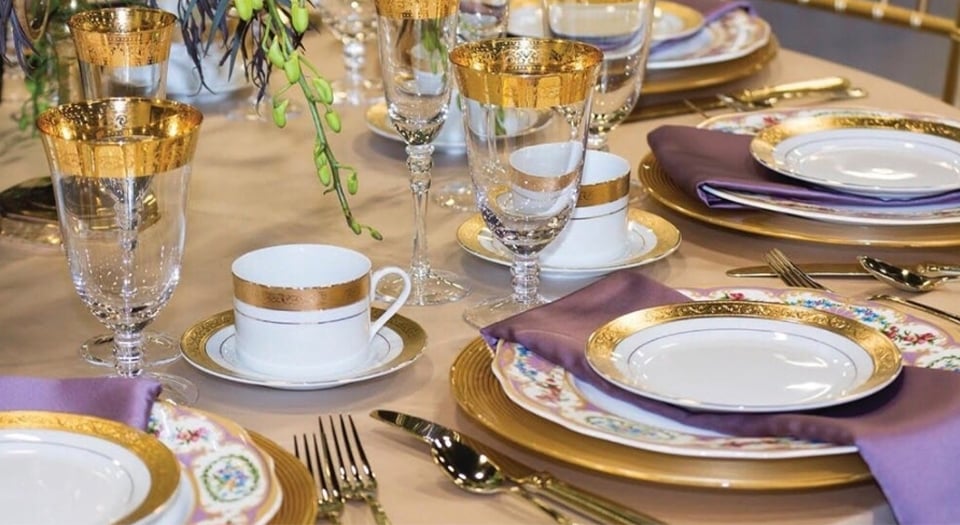 No matter how gorgeous a Los Angeles reception hall may be, the catering has to be on point. Everyone knows that the food is of the utmost importance. Not only is it your first meal as a married couple, but everyone will be excited about the delicious dishes they get to enjoy. At De Luxe, we understand this, and that is why we work with you to provide only the best wedding catering. We will make sure that you get exactly the food that you want, and that it is prepared with only the freshest ingredients. Once you taste our incredible catering, you will see why De Luxe is well-known for its delicious cuisine!
Inspirational Wedding Décor
To help you visualize the unlimited possibilities at De Luxe, we have included a photo gallery of some of our favorite inspirational wedding décors. Although not all of these photos were taken at our wedding venues in Los Angeles, the décor depicted is well within the capabilities of our wedding coordinators and affiliate vendors.
Why Host Your Wedding At De Luxe Banquet Hall Or Olivia Event Venue?
Our team at De Luxe has been hosting beautiful and exciting weddings for years.We know everything that goes into hosting a stunning, memorable, successful reception. When it comes to the décor, we have a wide variety of customizable amenities in-house for you to select from. If there's something unique or out of the ordinary that you want for your décor, we can recommend the best décor vendors in the business for our wedding halls. We can also recommend incredible florists, photographers, bakers, and anyone else you may need for your big day.
Besides vetted wedding vendors, we also have excellent chefs on staff who will work with you to create the perfect catering menu for your wedding. No matter what type of food you want for your reception, we can prepare it for you with the freshest ingredients and the most stunning display so that both you and your guests are impressed. From Mediterranean to Greek to American to Mexican, our chefs have the ability to make anything you'd like.
You will also love our outstanding client service. We will communicate well with you, answering your questions whenever you need. The vision you have for your wedding day and your satisfaction are our highest priority.
Our ballrooms at De Luxe and Olivia Event Venue are versatile and highly customizable. If you have a certain wedding theme or colors in mind, we can accommodate you and transform our spaces into whatever you need to meet your vision and expectations.
Keep in mind that we also offer the De Luxe lounge as a guest reception area, cocktail lounge, or other functional space when you book with De Luxe Banquet Hall. If you would like a smaller "bonus" area for your wedding, this is a great option.