Catering At De Luxe Banquet Hall
No matter if you want a gourmet meal for your event or if you prefer simple hors d'oeuvres, all three of our event venues offer delicious catering options that can be customized to fit your party and budget. Our chef and coordinators work with you to create a menu perfectly in line with the theme and tone of your event. Choose from authentic Mediterranean cuisine or traditional American banquet fare with steak, chicken, and fish entree options—or a fusion of both. The De Luxe Ballroom, De Luxe Lounge, and Olivia Event Venue are all easily accessible via our state-of-the-art kitchens, which are always stocked with the freshest, best-quality ingredients and equipped with clean, modern appliances and prep stations. This permits our chefs and venue staff to accommodate any type of catering service you request.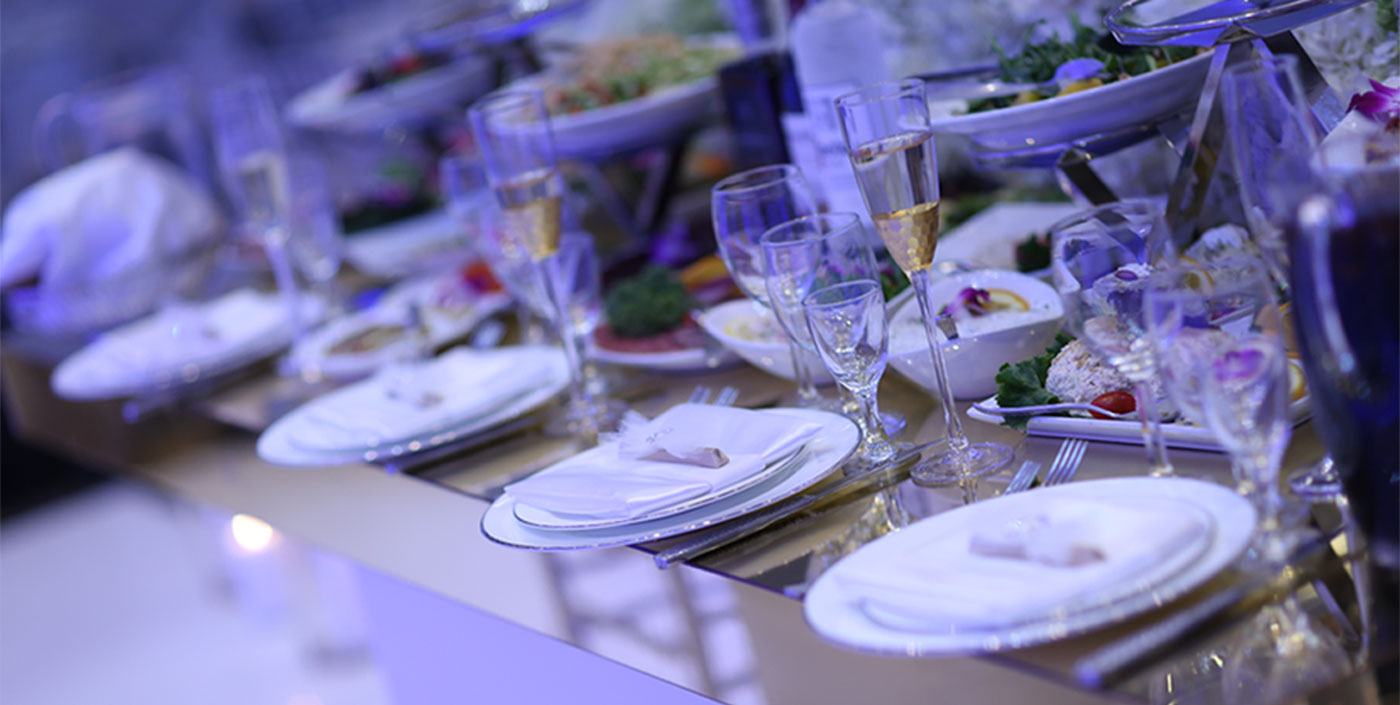 Family Style Service
Very popular for traditional ethnic cuisine, family style dining service is the middle ground between full table service and a buffet dining setup. This service is performed by delivering large portions of each dish or course on single plates for all the diners at a table to share. Guests then serve themselves from these dishes to choose their favorites.
Table Service

The traditional practice of individually serving each guest their portion of a course or chosen entree can be arranged for your event at De Luxe Banquet Hall. Our seated service generally includes an appetizer or salad course, a main course, and a third course of dessert or coffee, but we will work with you to create the customized combination of courses and dishes you desire.
Hors D'oeuvres

During a cocktail hour preceding or between events, tray service with assorted small plates and beverages offered by members of our wait staff is very popular. This kind of service keeps your guests enthusiastic and staves off hunger without spoiling their appetites for a meal.
Buffet Style Dining

For more casual events like family reunions, or for events designed with dinner to follow programming, buffet catering allows guests to choose their favorites from an array of entrees and sides from self-serve or manned buffet stations. Each guest can customize a meal to his or her satisfaction by choosing from large, fresh portions of each delicious dish you order.
---
We have a policy at De Luxe to only hold menu tastings on Thursdays each week. This is to ensure that no food is prepared or wasted unnecessarily. If you are interested in a menu tasting, please contact our management.
(818) 955-7777
BOOKING INQUIRY
Outside Catering Is Welcome
While De Luxe Banquet Hall's state-of-the-art restaurant kitchen and skilled gourmet chefs can accommodate many event dining preferences, we understand that some guests will opt for a separate catering service to accommodate special dietary restrictions, cultural traditions, and other matters of belief or preference. Our venue staff will do our best to work seamlessly with your preferred catering team to provide you and your guests with a flawless experience.