Dazzling Private Event Venues In Los Angeles For All Sizes
Whether you're looking for the perfect private event venue in Los Angeles for a big blowout bash or a smaller, more intimate event, our event venues will be the perfect fit for both your budget and your vision. With three stunning ballrooms, incredible cuisine, and five-star service, De Luxe has everything you're looking for, and more.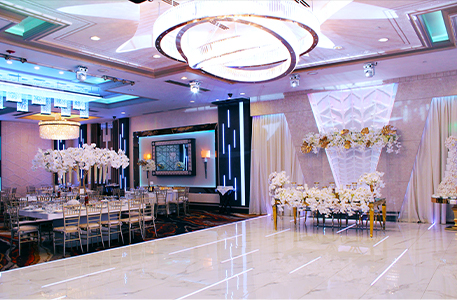 The ballroom at De Luxe Banquet Hall is a place where dreams come true! With its elegant high ceilings, LED lighting, spacious dance floor, and dazzling crystal chandeliers De Luxe's ballroom make the ultimate backdrop for upscale parties and events. Whether you're hosting a wedding, birthday, anniversary, christening, corporate event, or any other type of celebration, you will fall in love with De Luxe and everything we have to offer.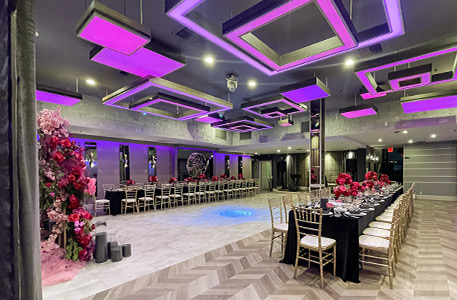 Classic yet modern, roomy yet intimate, Olivia Event Venue is absolutely perfect if you want to host a mid-sized party or corporate event in style. Olivia's high-end atmosphere, excellent catering, and outstanding service are exactly what you want to impress your guests and make memories to last a lifetime. Allow us to make your vision come to life. With room for up to 150 guests, this private event venue offers comfort, energy, and excitement!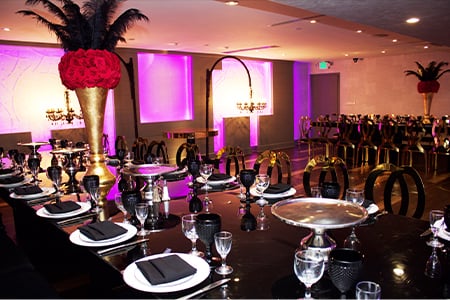 For smaller events such as anniversary parties, showers, and birthday dinners, the De Luxe Lounge offers true glamor and sophistication. Featuring décor and furniture inspired by classic Hollywood, the De Luxe Lounge offers a classy ambiance for stylish parties. Our Lounge is customizable and can comfortably accommodate up to 50 guests. Come see why the De Luxe Lounge is one of the best-kept secrets in Los Angeles!
Private Event Venues In Los Angeles
For Unforgettable Weddings And Special Occasions
Our event venues are ideal for celebrations of all kinds. From large to small, from weddings to birthdays to corporate affairs, our venues will make the perfect setting no matter what your vision or goal may be.
Weddings are the most common and popular events that take place at De Luxe Banquet Hall. We are happy to offer three different event venues to fit any size guest list and budget. While weddings typically take place at our 400-guest grand ballroom, we also provide more intimate wedding venues for smaller guest lists. No matter how large your guest count is or what your wedding budget may be, at De Luxe we have you covered! We promise to provide you with a venue space that will give you a wedding day you'll never forget.

Baptisms & Christenings
While baptisms & christenings are traditionally held in a church, the celebrations afterward are usually held party venues to accommodate celebrating. At our venues, we're happy to help you mark this special occasion with family & friends with our service, atmosphere, and delicious cuisine. Whether your guest count is small or large, one of our three spaces will work beautifully for this special celebration!

Baby & Bridal Showers
Gifts, games, and fun with family and friends are perfectly at home in any of our elegantly-decorated venues. Small events like bridal showers and baby showers are often a perfect fit for the De Luxe Lounge or Olivia Event Venue, which are perfect for smaller guest counts and feature a full bar, DJ booth, and custom lighting options.

Sweet 16 Parties
As one of the most important birthdays in a girl's life, Sweet 16 parties call for lots of décors, a great dance floor, energetic entertainment, and outstanding food. At our venues, we take care of all of it! Let us help host the perfect Sweet 16 for your special girl, transform our spaces to match her unique theme, and make her birthday dreams come true.

Birthdays
Whether you want a sophisticated, formal birthday dinner or a splashy, themed bash with lots of décors, our team can accommodate your birthday vision. No matter if you're turning 15, 21, 30, 40, 50, or 100, De Luxe is perfect for your party! From the menu to the entertainment, we're happy to help bring your birthday plans to life!

Quinceañeras
A young lady's fifteenth birthday celebration should be unforgettable. Our three venues can transform into luxury quinceanera halls, accommodating anywhere from 50 to 420 guests and offering spacious seating, dining, and dancing areas for your extended family, and family to share this occasion! The team at each of our venues will be happy to help you customize the space to match any theme

Anniversaries
Milestone wedding anniversaries are extraordinarily special events, and celebrating the love that has endured so many changes in life should be done in style. Choose one of our three venues to host your wedding anniversary party, and you'll see how we can help you have a celebration that makes you feel like you're getting married all over again!

Bar & Bat Mitzvahs
Every parent wants to give their child a bat mitzvah or bar mitzvah celebration to remember. At our venues, we provide the décor, service, and any size space necessary to make your bar or bat mitzvah ceremony and celebration absolutely perfect. Our venues offer beautiful, rich architecture and a fun environment to make these special events truly special.

Graduation Parties
Choosing one of our three upscale venues for graduation parties provides the celebratory atmosphere and spacious accommodations that this special occasion truly deserves! Whether you want a smaller lounge setting or a large banquet hall backdrop, the charm of our spaces works perfectly for your graduation party. Our venues are the ideal choice for one graduate or a whole class!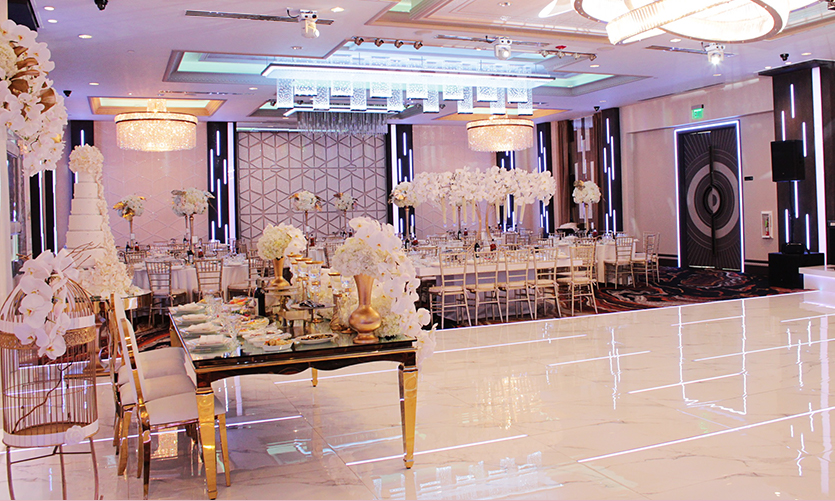 Allow Us To Customize Your Event
If you're planning an event, you probably have a specific vision in mind. Especially for wedding receptions and birthday parties, our clients often have their own ideas for décor, catering, lighting, entertainment, and colors.
We are happy to accommodate any wishes you may have for customization. Our spaces are very versatile and easy to transform into anything you wish to match your event vision. We have plenty of furnishings, linens, tableware, and lights for you to choose from, and our outstanding chefs will work with you to create a catering menu to impress both you and your guests.
And if you're looking for certain event vendors such as a florist, baker, band, etc., we can recommend a wide variety of vetted vendors that we have worked with before. We want you to have the exact event you've been picturing, and we will do everything we can to provide you with what you need for your party to take shape.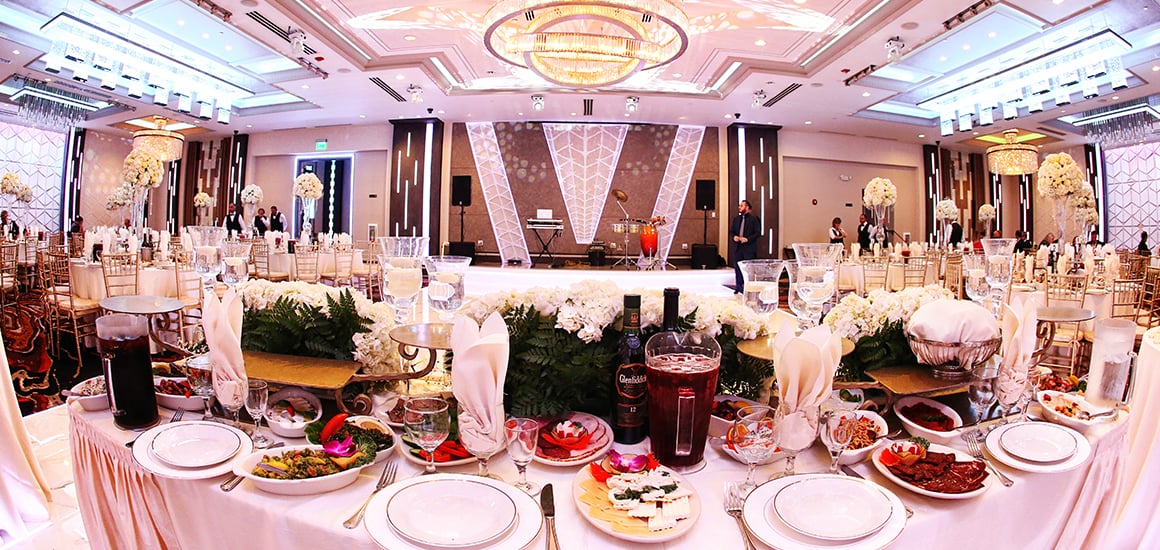 World-Class Catering To Delight The Senses
From simple hors d'oeuvres to a lavish family-style meal, at our venues, you will be treated to impeccable catering to fit any size event.
All three of our event venues provide delicious catering options. Our chefs can work with you to design a menu that goes perfectly with the theme and tone of your party.
We can serve your party catering any way that you want, from family-style to table service to a buffet.
From authentic Mediterranean dishes to traditional American fare, our three fantastic private event venues in Los Angeles provide delicious food that will delight your guests.