The day has finally come – your little girl is about to become a beautiful young woman, and only a huge celebration will sufficiently mark the momentous occasion. To help you plan, book, and organize a Sweet 16 Party your princess will never forget, De Luxe Banquet Hall has prepared a list of important advice that every parent or guardian should know.
#1: Book Your Venue in Advance
To ensure that the excitement of her coming-of-age birthday will still be fresh in your daughter, granddaughter, niece, or sister's mind, we recommend scheduling her Sweet 16 party for the Friday or Saturday directly following her birthday; doing this gives parents and guardians a limited number of options, however, especially if trying to book a venue only a few weeks in advance. To get the perfect date, most upscale venues recommend reserving your event space 6-8 months before the big day.
#2: Narrow Down The Guest List
The guest list is one of the most important aspects of the Sweet 16 party, and careful consideration should be taken to make sure all the right people get an invite to the party. If your venue isn't large enough to accommodate the entire guest list, sit down with the birthday girl to help her separate the "best friends" (those who MUST attend) from the mere acquaintances. Keep in mind relationship dynamics, too, and encourage your daughter, granddaughter, or niece to only invite people who get along; after all, nothing can ruin a party faster than a fight between two guests.
#3: Send Out Invitations
First impressions are important, especially to teenagers, and the right invitation can be the difference between the best night of your little girl's life and an empty venue (and broken heart). To set the right tone for the party, De Luxe recommends coordinating the invitation with the party's theme – whether it be the party's colors or a more specific theme, like a "Luau" or a "Princess Party" – and having the invites custom made for the event. Also, try to send your Sweet 16 party invitations out no later than 4-6 weeks before the big day; this will give guests time to clear their calendars, pick out new dresses, and buy the perfect presents.
#4 Rent a Limousine
Unless they happen to be the daughter of a celebrity, dignitary, or high-profile businessman, most 16-year-olds have likely never seen the inside of a limousine. To make your special girl's party memorable, rent a stretch limo, stretch Hummer, or party bus for her and 10 of her closest friends. Allowing the birthday girl and her special guests to be escorted to the party unchaperoned (no parents!) will make her feel like a real adult, and setting up a "red carpet walk" – complete with flashbulbs and screaming "fans" (party guests) – when she arrives at the venue will make her feel like a true rockstar.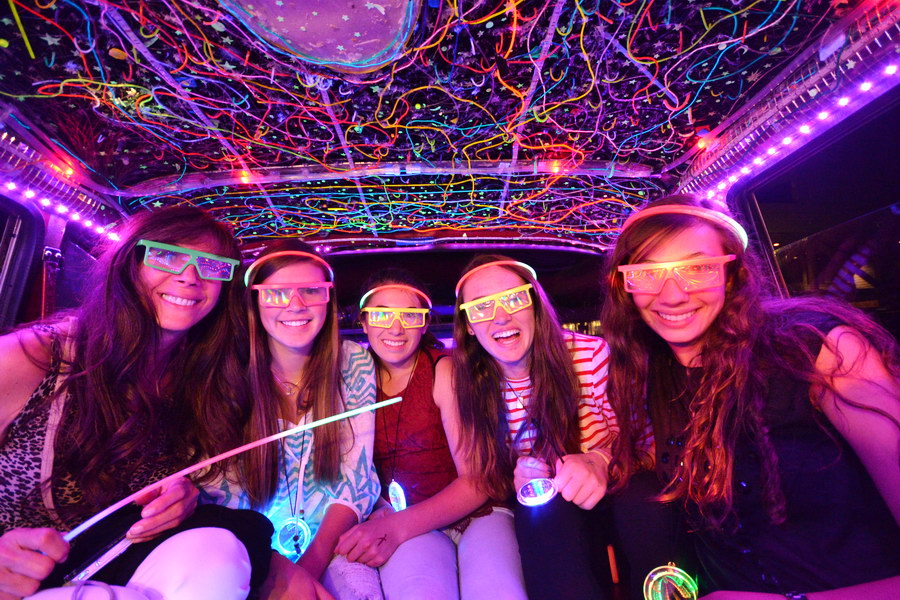 #5: Find The Right DJ
There are few things more important to the success of your 16-year-old's party than great music; the right DJ must know when to play fast songs (90% of the time), when to play "slow-jams" (10% of the time), and above all, they MUST be able to take requests and play all the most popular songs (even songs that were released only days earlier). To help your entertainment professional know what type of music to play at the party, ask the birthday girl to write down a playlist of her favorite artists and songs.
#6: Hire A Professional Photographer
Though hiring a pro can be expensive, we recommend making the investment instead of leaving the task up to amateurs, or worse, trying to do it all yourself! Professional photographers not only have the best equipment to take and edit your photographs, they also know how to get the best shots in darker settings and in environments with lots of movement. Give your little girl one of the most valuable gifts you can offer: memories that will last a lifetime.
#7: Keep It (Relatively) Parent-Free
Obviously some parental presence is necessary at your daughter, niece, or sister's Sweet 16 party, of course, but allowing the guardian of every party guest to swarm the venue will lead to lots of self-conscious kids and an extremely dull party. "Bring in the parents of your daughter's best friends to be your core chaperones," suggests one mother who recently planned her daughter's Sweet 16 at De Luxe, "and personally call the parents of every child on the guest list. Assure them that 'hey, yeah, we've got everything under control' and try to stay out of the way yourself. This is her day, after all. The most important thing is to let her enjoy it with her friends."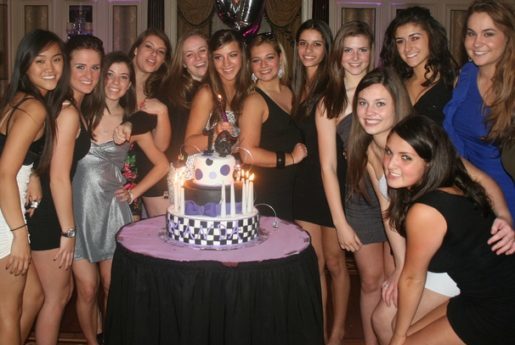 #8: Plan the Food
As you probably know, teenagers can eat – a LOT! To prevent the food from running out at the Sweet 16 party, opt for quantity or quality; pizza, microwaveable taquitos, Bagel Bites, and baked goods are popular because they can be consumed while standing and without the use of utensils. To add a fun touch to the party, you might consider hiring a professional bartender to make the underaged party guests "mocktails" (fake cocktails made with juices instead of alcohol) as well.
#9: Try Not To Cry
All we can say to this last piece of advice is: Good Luck.