Penning personal wedding vows to your fiancé can be a unique way to express the love you feel on your wedding day. For those of us who aren't professional speech-writers, however, the task of eloquently conveying the complex mix of emotions – admiration, passion, hope, commitment – to the man or woman of our dreams can seem like an impossible one. Luckily, the event planners at De Luxe Banquet Hall have put together an easy guide to writing heartfelt vows that your family, friends, and partner will remember forever.
Step 1: Set The Guidelines.
Before putting pen to paper, sit down with your future husband or wife and discuss some key formatting issues for your vows. Are you going to write them together or separately? How long do you want them to be? (We recommend less than 2 minutes when read out loud!) Are your vows going to be humorous or serious? Poetic or to-the-point? Are you going to make the same pre-scripted promises to each other, or personal promises that reflect your individual commitments to one another? Deciding on these basic guidelines will help bring symmetry to your vows – and to the ceremony as a whole – even if you plan on keeping your declarations of love a secret until your wedding day.
Step 2. Get Inspired.
It's okay to have anxiety about writing your wedding vows – these are some of the most important words you will ever say to another human being, after all! To overcome that "I don't even know where to begin!" feeling, we recommend reading as many examples as you can get your hands on. Peruse the internet for "best wedding vow" lists, call your local church and examine copies of traditional religious vows, and consult married friends about their experiences writing the vows for their own weddings. Well-known bridal website The Knot even publishes a book called "Guide To Wedding Vows and Traditions: Readings, Rituals, Music, Dances, and Toasts," which can be found on Amazon; this is a great resource for getting your speech moving in the right direction.
Step 3. Make It Personal.
Obviously, you chose to write your own vows because you want to express your commitment to your future husband or wife on a more intimate level. To get to the heart of your relationship (no pun intended), take some time to reflect on your fiancé and the relationship you have together. Jotting down the answers to the following questions may help you articulate your feelings and define your speech:
What did you think the first time you saw your fiance? What were the circumstances surrounding your first encounter?
When did you realize you were in love? What emotions did you have at the time?
What is an anecdote that you feel summarizes your relationship? Why?
What do you respect most about your partner?
What is the most difficult situation you and your partner have faced as a couple? How did you overcome it?
What are your dreams for the future?
How has your life improved since meeting your  fiancé?
In what ways do you complement each other (make up for the other's shortcomings?)
Why do you believe your marriage is built to last?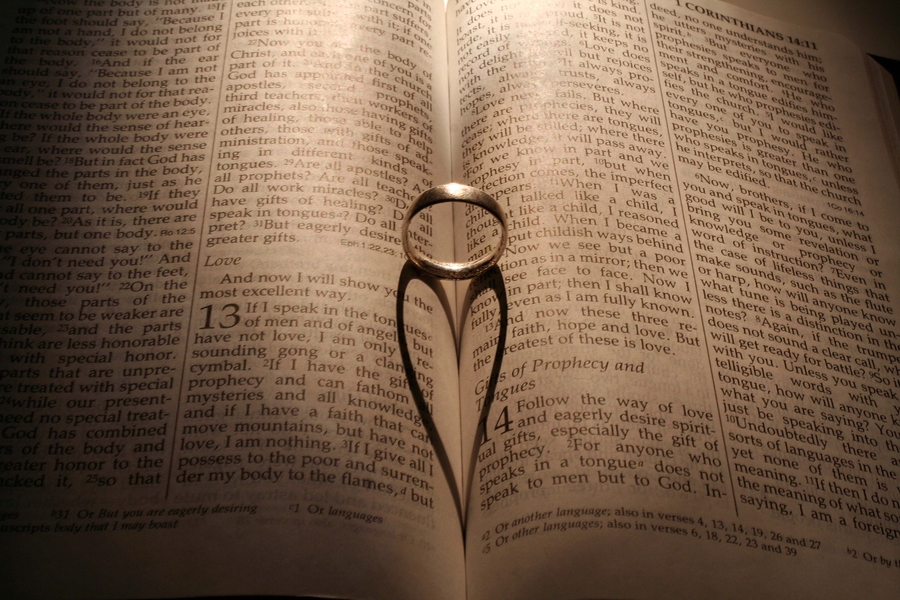 Step 4. Write It Down.
Now that you have a good idea of what you want to say to your partner on your wedding day, it's time to start writing. One great way to construct your vows is to begin with a story, then use the anecdote to highlight your love for your fiancé and your commitment to the marriage. If no definitive story about your partner or relationship comes to mind, try implementing the following four-part format: 1) Affirm your love, 2) Praise your partner, 3) Offer promises about how you will support him/her and what you bring to the marriage, and 4) Close with a vow. Regardless of how you choose to structure your message, though, remember: they are called "vows" for a reason, so be sure to include a promise (or multiple promises) like "I promise to always support you," or "I promise to always hold you when you cry at the end of The Notebook." And finally, always use your own words instead of borrowing cliches; though you may doubt your speech-writing abilities, your vows will mean more to your partner if they come from your heart and not someone else's.
Step 5. Clean It Up.
Read over your first draft carefully. Remove any inside jokes or cryptic references that your attendees won't understand, and eliminate any elements (funny though they might be) that could potentially embarrass your family members or your future husband or wife. Keep in mind, too, that your vows will likely be recorded and documented for the rest of your life, so try to steer clear of pop-culture references unless they directly relate to your relationship (such as "we met dancing the Macarena") – though these might elicit chuckles at the time, the joke may fall terribly flat when you watch your wedding DVD on your 10-year anniversary.
Step 6. Practice Makes Perfect.
Though it might seem strange (and even slightly embarrassing), reading your vows out loud is one of the best ways to prepare for the big day. Listen carefully as you read them in front of a mirror – or better yet, in front of friends or loved ones – and ask yourself: Are my vows easy to say and understand? Do they flow naturally and sound genuine and conversational? Is my wording free free of tongue-twisters, run-on sentences, and confusing phases? Correct any mistakes, and keep practicing! (Hint: Remember to pay attention to your posture, pace, and hand gestures, too!)
For more information on De Luxe Banquet Hall – including reserving our exquisite event space, a list of our service, and more useful wedding tips – visit our Contact Us page!