Real talk: the average wedding produces 400 pounds of trash and 63 tons of carbon dioxide. When you do the math with these statistics for the average amount of weddings per year (which is 2.5 million), you get roughly one billion pounds of trash, and as many carbon dioxide emissions as about four people would produce in a year…in one day. It's time to get more eco-friendly, people. This is why a sustainable wedding is better for everyone.
More and more couples are making it a priority to plan and design their dream wedding with the environment in mind, which needed to happen from the beginning. If you're engaged and looking for how to have a sustainable wedding, here are the best methods for reducing your carbon footprint without sacrificing style.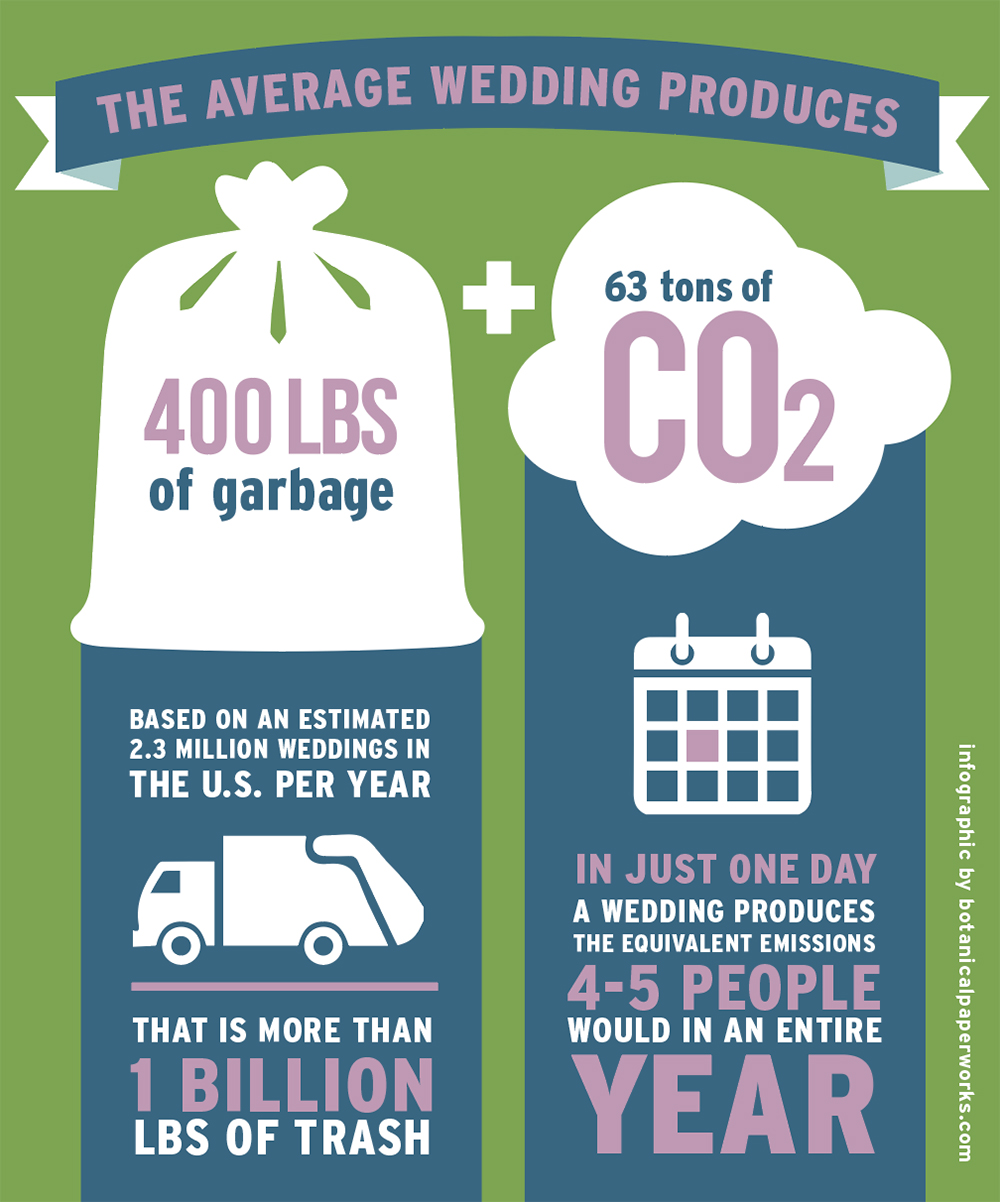 Image: botanicalpaperworks.com
An Eco-Friendly Menu
Choosing local and/or organic foods that are in season will reduce the emissions involved with shipping food across the country, as well as support local farmers. The same goes for local breweries and wineries. Whether your wedding venue is providing the wedding meal, you're hiring an outside caterer, or someone you know is providing the food, try your best to source organic, local, fair trade, and ethically-produced ingredients.
A Sustainable Cake
Be sure to ask your baker if they can source organic, local, fair trade ingredients for your wedding cake (including ethical eggs) and incorporate in-season, local fruits. Recycle and repurpose the cake "accessories" too, like ribbons and platters, or use natural elements.
Also consider ditching the wedding cake altogether in favor of a beautiful dessert table. This can often be much more sustainable than a cake that will end up being wasted.
A Secondhand Wedding Dress
Picture your dream wedding dress. Chances are, it already exists and has been worn before. "Secondhand" doesn't have to mean outdated and dirty. In fact, many brides have discovered the beauty of pre-worn wedding dresses. A secondhand wedding dress — especially when vintage or antique — can be stunningly beautiful, unique, and perfectly made. Remember, many of these dresses were only worn once, and are practically new.
Click to enlarge these gorgeous secondhand wedding dresses:
Perhaps someone in your family would like to let you wear their wedding dress, so be sure to check out old photos to see if anything is to your taste.
Choosing a secondhand wedding dress is essentially recycling. Doing so reduces pollution by skipping the exhaustive manufacturing process. If you really think you can't find a secondhand wedding dress that you like, do consider finding a designer that is fair-trade and eco-friendly, such as Silviyana.
Local, Organic Blooms
It's not only food that is eco-friendlier when local. Flowers are also much more earth-conscious when used from local sources. Not all flowers are organic (chemicals are often used to get rid of insects), but it's possible to find incredible vendors that use organic blooms to curate pretty, unique, pesticide-free bouquets and centerpieces. You can also look for local native flowers and plants to celebrate where you're from and where your wedding is taking place.
You can also consider decorating with living plants (see: potted) and/or succulents for decoration, which some of your guests can take home.
Also be sure to choose a floral vendor who does not use floral foam; it's horrible for the environment. It is not biodegradable and releases harmful chemicals if burned. Instead, use recyclable floral foam — or nothing at all.
One Venue
Consider hosting your wedding ceremony and the reception in the same wedding venue in order to cut down on emissions. This will also be more convenient for your wedding guests. Bonus points if your venue also has an on-site kitchen for the catering, as this will also cut down on emissions.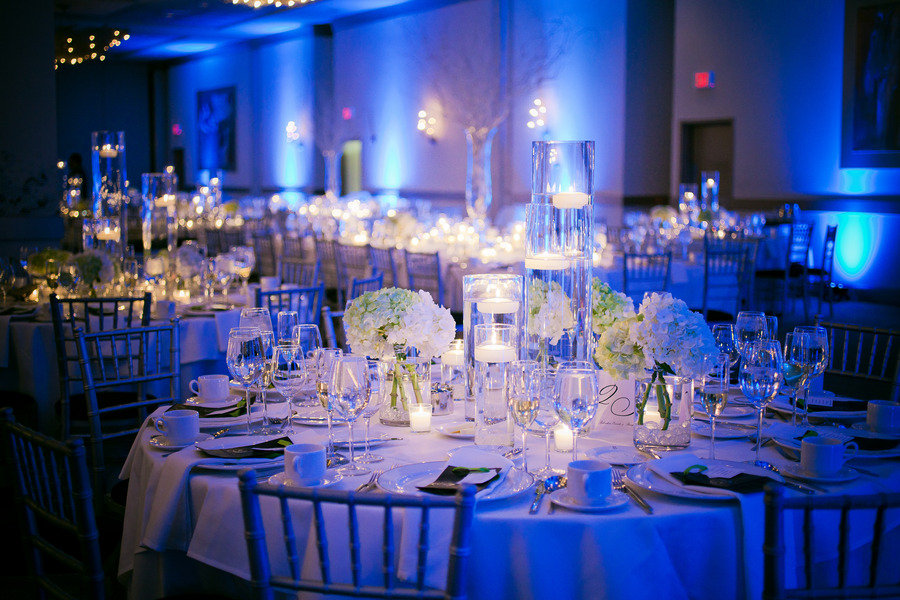 Image: De Luxe Banquet Hall
Cut Down On Printing
Don't print out anything unless it's absolutely necessary. In this day and age, everything can be digital anyway. Be sure to take advantage of services such as Zola or Evernote to organize your contracts, vendor research, to-do lists, and other paperwork digitally.
Dishes and Utensils
At De Luxe Banquet Hall, we often see couples and caterers use single-use plates, cups, napkins, and cutlery. It's understandable to want something that's easy to clean up, but you know what's not easy to clean up? Our planet. All of those items will most likely end up in a landfill somewhere, so consider requesting sustainable, compostable, or reusable dishes, napkins, and cutlery from your catering company or venue. And no plastic straws! This also goes for any pre- or post-wedding events, such as bridesmaids brunches or the rehearsal dinner.
Rent Dishes And Linens
If your caterer or venue simply doesn't provide sustainable/compostable/reusable dishes, napkins, and cutlery, consider renting these things from a specialty company. Just be sure to ask the rental company about their cleaning process, as some methods can be more harmful to the environment than others.
Decorate With Nature
Instead of lots of paper wedding décor or buying brand-new items, consider using completely natural elements to beautify your big day. Ideas such as leaf table cards, a greenery trellis, and tree log platters work fabulously.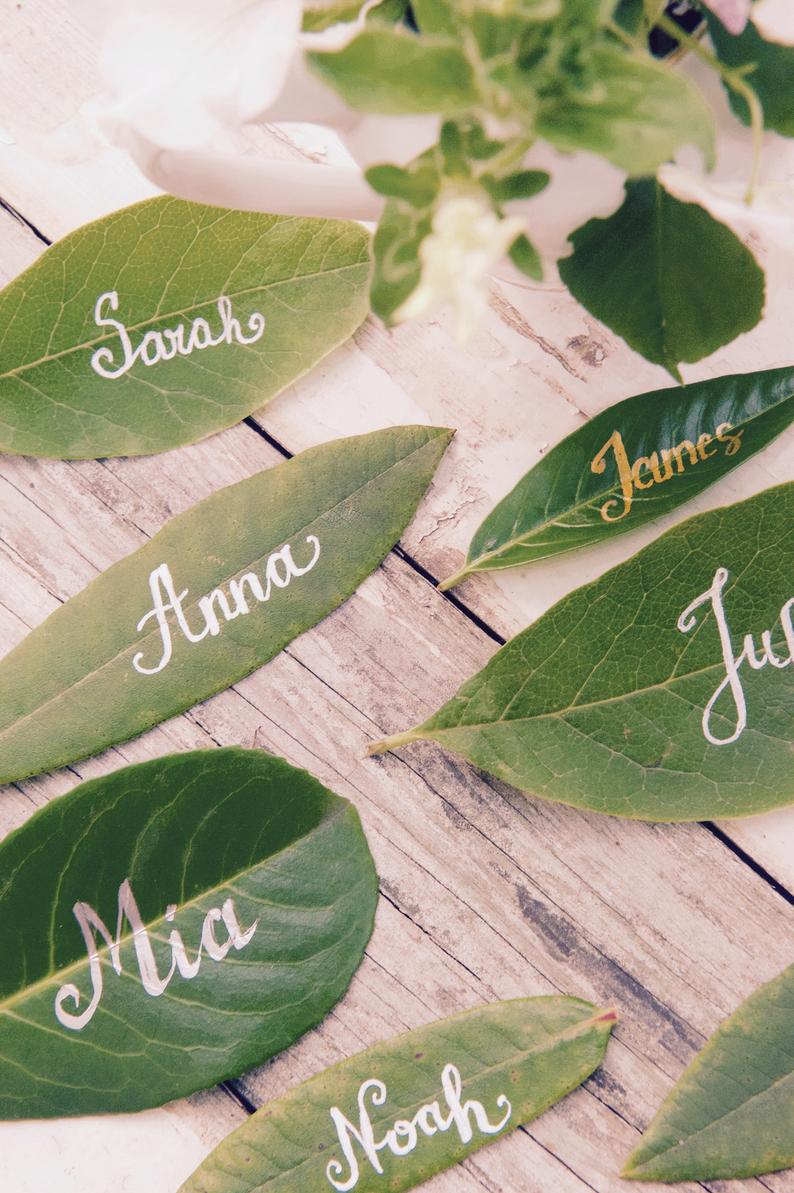 Image: etsy.com/shop/LaMiaCasa
Plantable Paper
Seed paper is a godsend. You can choose to print your wedding invitations, thank-you cards, table cards, signs, and anything else printable on this 100% biodegradable paper. Paper factories pollute the environment, and a crazy amount of paper is discarded each each year instead of being recycled.
Digital Invites
While seed paper is a great idea, you can also choose to send all of your save the dates and wedding invitations digitally. Paperless Post allows couples to choose what they want to be digital and what they would like to have printed (if anything). There's even an option to print one keepsake printed invitation for you as a couple.
Eco-Conscious Printers
If you don't want to go digital with your invites and seed paper isn't an option (for whatever reason), select a very eco-conscious stationery brand, such as Ephemora, that does everything possible to reduce their carbon footprint while simultaneously providing gorgeous paper goods. This can mean the company uses recycled paper; paper made from properly managed forests; eco-friendly print methods; shipping using carbon offset credits, and printing locally.
Image: ephemora.com
No Wrapping
This one is pretty simple: on your gift registry, add a polite request that no gifts be wrapped — or, if they are wrapped, that they use eco-friendly wrapping paper.
Kegs Over Bottles
Bottles and cans, just clap your hands…or don't! It's bad enough that the bar will be using a lot of glassware at your wedding reception, but just think about the amount of bottles and cans that alcohol comes in. Don't provide those little cans of wine and champagne; instead, stay with full-sized bottles. As for beer, consider choosing a keg (or kegs) over bottles. Just make sure that's okay with your venue first.
Donate Or Compost Waste
One of the biggest contributors to wedding waste is leftover food and flowers. These often wind up in a landfill, but could very easily be composted or donated. Speak with your caterer or venue about where the leftover flowers and food go after the wedding, and if they don't have a sustainable one, take it upon yourself to arrange a plan to either donate or compost it. Organizations such as Random Acts of Flowers accept donations of flowers and vases for health care facilities, and there are certainly plenty of homeless shelters that would accept the donated food.
Used Wedding Décor
If using nature as décor isn't quite your thing, there are other options for sustainable wedding decorations. You can buy used wedding décor from a former bride, or borrow it if you know her. There is also a whole world of possibilities when you utilize thrift shops. You can find some truly unique, beautiful, and affordable decorations.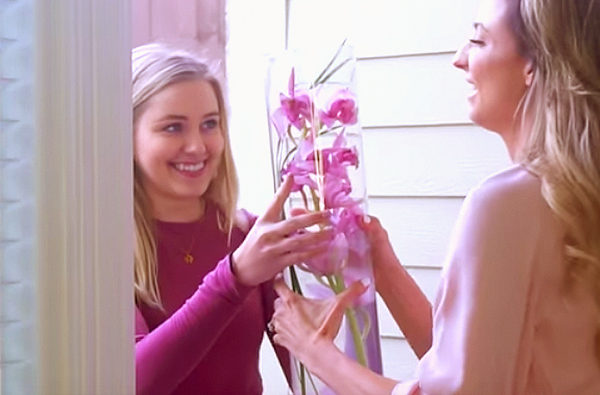 Image: daniaustin.com
Reusing Décor
Did you know that your wedding décor can perform double duty? This not only contributes to a sustainable wedding plan; it also saves you money. For example, bridesmaid bouquets can become table centerpieces. A ceremony backdrop can become a photo booth backdrop. Chair florals that were at the ceremony can be moved to the reception to decorate the dessert or cake table. Try your best to find a second use for every décor item you use.
A Vegetarian Menu
Because meat is one of the top contributors to methane (one of the world's most potent GHG gasses), couples should consider choosing a vegetarian menu for their wedding. This will greatly reduce the carbon footprint of the wedding, as well as slow down climate change. If this is too much for you, then at least aim for a menu that is 50% vegetarian.
Sustainable Beauty
The chemicals and artificial ingredients in some makeup and hair care products is outrageous. In addition to our health, these ingredients are also hazardous to the environment. For your sustainable wedding, be sure to ask your makeup and hair stylists what cruelty-free, zero-waste or locally-produced beauty products they can use. A great resource to use for information on this is Cruelty Free Kitty.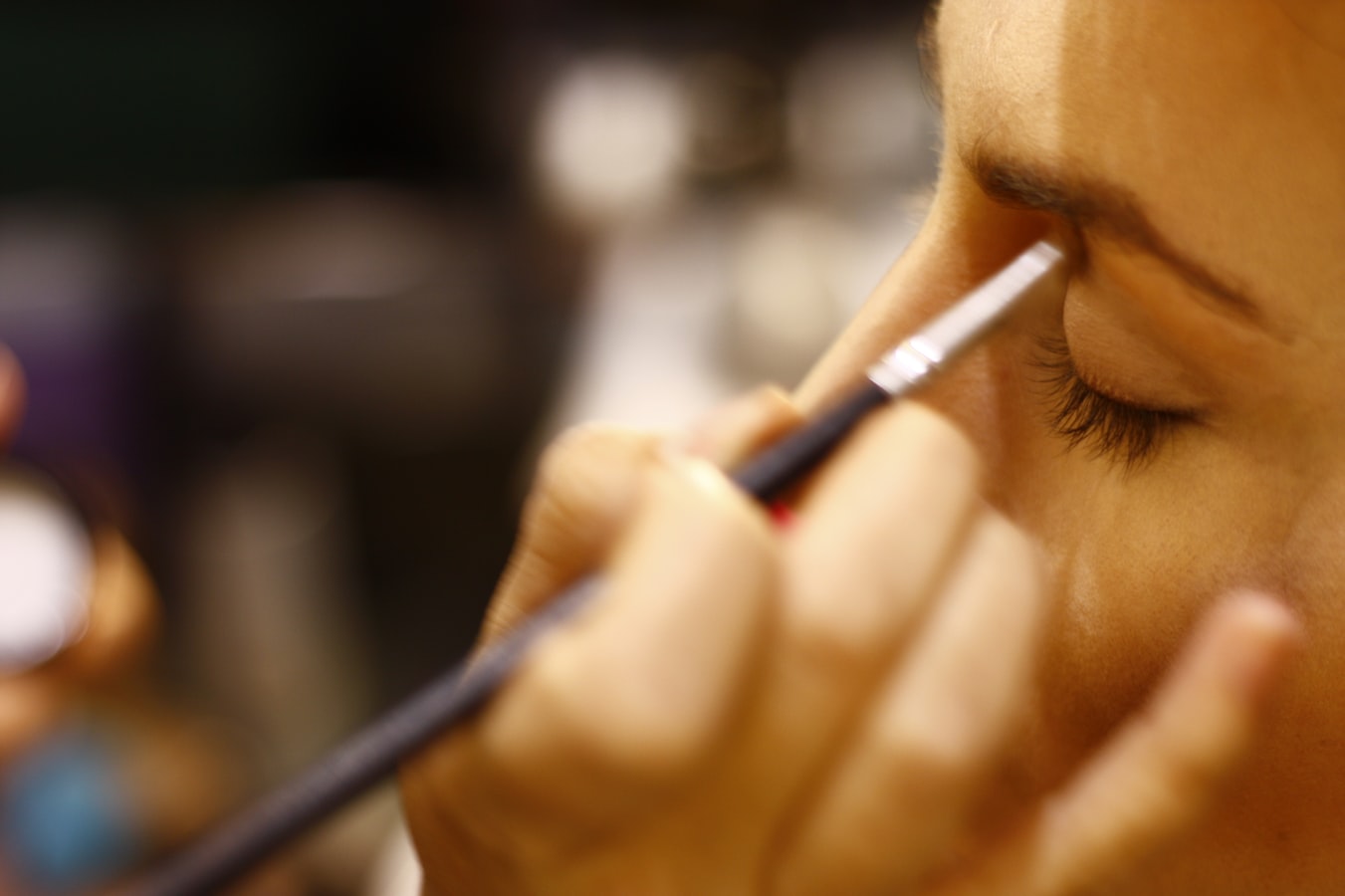 No Bottled Water
Plastic water bottles have a very high carbon footprint, and they typically go straight to a landfill, where they don't degrade for decades. Instead, provide reusable cups and provide a refillable water container. (Bonus: this will also be much more visually appealing than a bunch of shiny water bottles peppering tables.)
Favors
Any wedding planner will tell you that, more often than not, wedding favors are left behind after the wedding. They end up being a huge waste, so be careful when (and if) you decide to provide wedding favors. If you really want to provide them to your guests, try to give things like plants, seeds, or something edible that will not get left behind. Also, be sustainable-minded when selecting the packaging.
Send-Offs And Surprises
We've all heard about the fireworks surprise, the balloon surprise, the floating lantern surprise, and sparkler send-offs. These are all certainly lovely and thrilling, but eco-friendly? Not so much. Balloons are terrible for the environment, as are fireworks and lanterns. Instead, think about using items such as biodegradable confetti or leaves.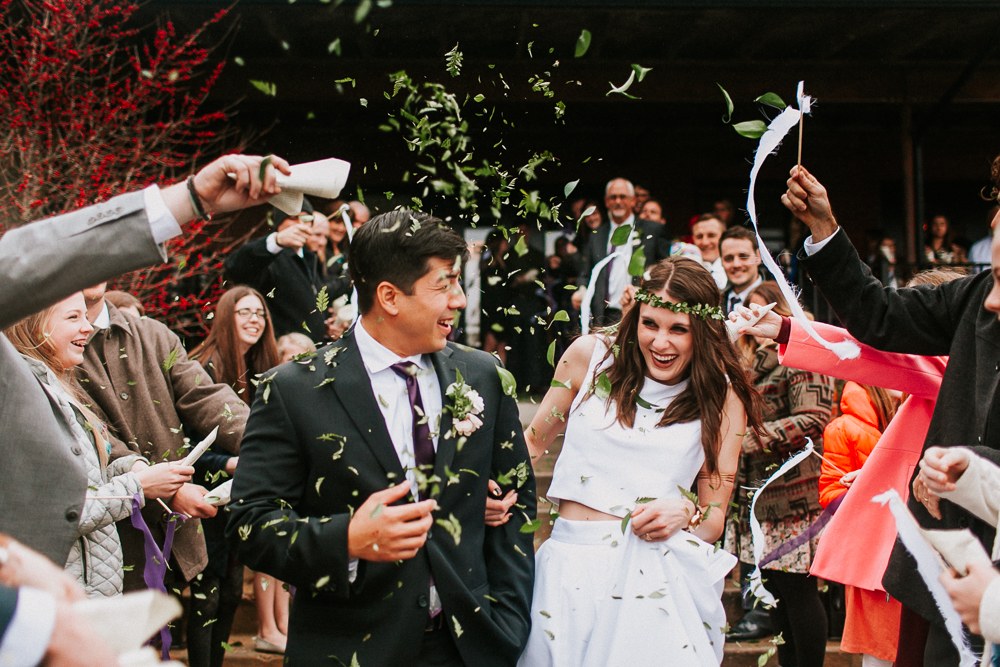 Image: emilynicolephoto.com
Registry
Registries can be tricky, because it's so easy to just go nuts and pick a ton of things. However, be very mindful when making your wedding registry. Think about whether the items you're choosing have a negative impact on the environment, the waste from the packaging, the emissions from the shipping, and if you really need the item(s) or not.
When working on your wedding registry, consider requesting fair trade, eco-friendly items. The ABC Home Store is a fantastic option for sustainable home items. You can also register for things like gift cards or experiences to cut down on waste.
Reusable Signage
If you're planning to have wedding signs for parking, hashtag announcement, reserved seating, or anything else, consider using multi-purpose sign options that can be re-used after the wedding, such as chalkboards or glass pieces that can be customized with markers or paint. Getting a new paper sign for everything you want to mark is extremely wasteful.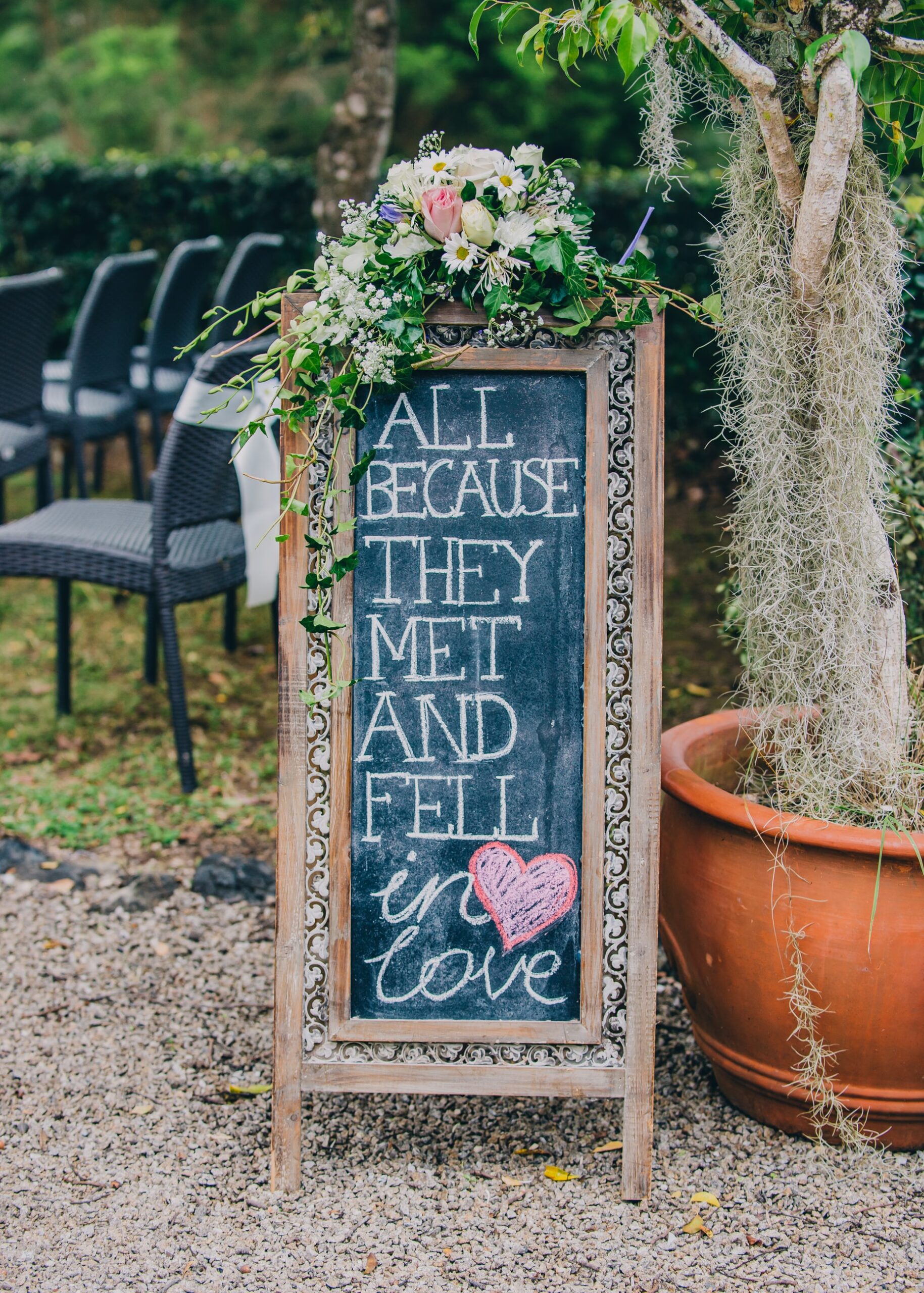 Once you begin planning a sustainable wedding, you won't be able to stop the great ideas. Choosing even just some of these ideas will greatly reduce your wedding's carbon footprint, and you may just set a shining example for others. Good luck! And be sure to consider De Luxe Banquet Hall for your venue. Contact us with any questions!