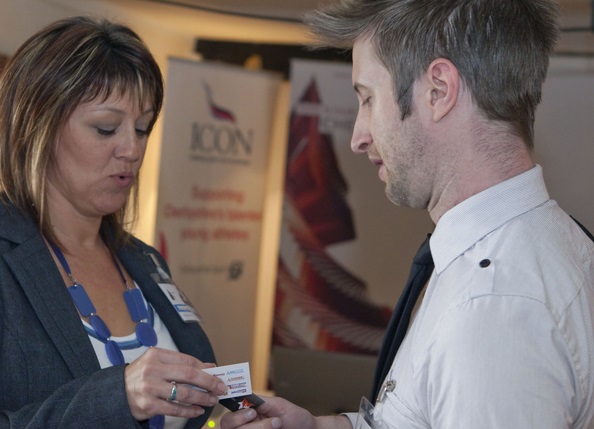 Are you looking to branch out from your current audience, meet local business owners, or introduce your new company to the community? A business mixer is an excellent way for local businesses to get together in person, exchange business cards, and gain new contacts! If you want to elevate your business and increase your company's brand awareness, consider these steps for hosting an informative and entertaining business mixer:
Step #1: Carefully Craft Your Guest List
Remember: the main point of hosting a business mixer is to network with fellow business owners, managers, and employees. Create a guest list which reflects your business's goals, and invite people that have similar interests, business models, and company ethos. Other professionals may be able to help you and your business, so write down and memorize a short introduction—called an "elevator pitch"—that you can recite to engender interest in your company.
Step #2: Location, Location, Location
Choosing the right venue for your mixer is important. If possible, you should host your event in your office, shop, or restaurant; this will get people into your location and indirectly promote your services or products. If your business space isn't large enough, consider renting a venue with plenty of room to mingle but quiet enough for guests to easily converse. A space that is visually pleasing and exciting, too, will make a lasting impression on your attendees, and catering and beverages services are a must!
Step #3: Make It Fun!
Just because you're hosting a corporate affair doesn't mean the evening has to be "all business." After all, you want your guests to enjoy themselves, stay throughout the event, and fondly associate your company with the mixer. Consider hiring entertainment—musicians, stand-up comedians, and motivational speakers are always crowd-pleasers—to put your guests in a great mood. You can also ask different vendors and business owners if they would be like to donate door prizes; this is a fun way to get people excited while promoting local products at the same time. Who doesn't love getting prizes?
Step #4: Remember, It's All About Networking
Create an atmosphere that encourages mingling. Don't place too many chairs and tables around; instead, make sure people are walking around, talking, and exchanging information. Include a table (or multiple tables) for fellow businesses to display merchandise or brochures about their services and products, and consider organizing networking exercises as ice breakers—these can be as simple as encouraging people to talk to someone they've never met, or something more creative, like drawing names of famous couples from a hat and asking everyone to mingle until they find their "missing half." Finally, remember to keep it light and talk with as many guests as you can; try not to overwhelm the evening with speeches and presentations.
As you can see, a business mixer can benefit your business in a number of ways. For more tips on hosting a successful mixer, contact De Luxe Banquet Hall today!