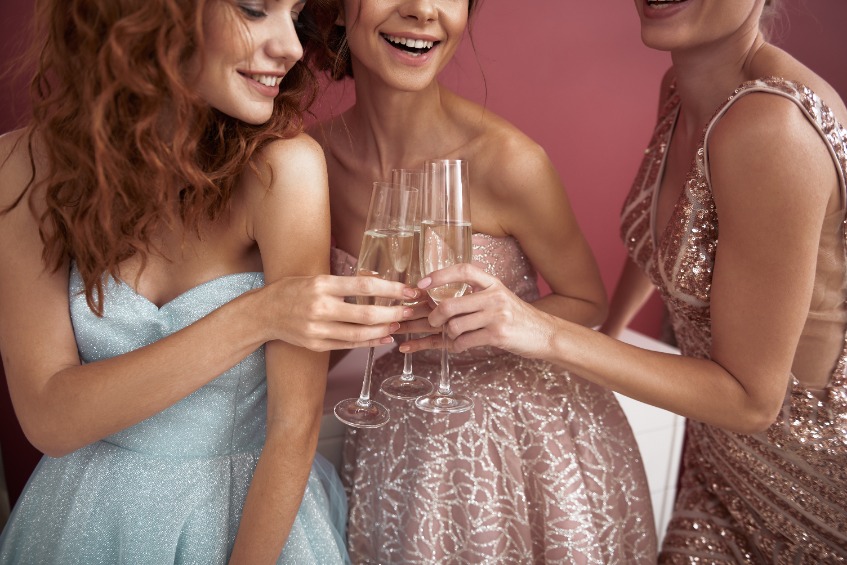 A bridal shower is perfect for a bride-to-be and her friends to bond before the big wedding night. Bridal showers can look different for each person, but the point of one is for a bride and the bride's friends to have a lot of fun.
Our wedding venues are the ideal place to host your bridal shower. With our spacious ballrooms and customizable amenities, our venues can easily be transformed into an inviting space with all the decor needed to make your bridal shower luxurious. With options available to suit any budget or style, you can create a unique and beautiful bridal shower.
While bridal shower games aren't necessary, they can definitely spice things up. A bridal shower game can help your guests get to know you and each other better. Let's explore 13 of the best bridal shower game ideas to make your celebration more exciting.
1. Bridal Shower Bingo
Bingo is a straightforward game that's easy to prepare and is a fun way to add life to the bridal party. Create your traditional bingo cards, but replace the word bingo with the word bride, thus making it the wedding version of bingo.
Your guests guess what gifts the bride will receive. The first one to mark off a line vertically or horizontally will win a prize.
2. Find the Guest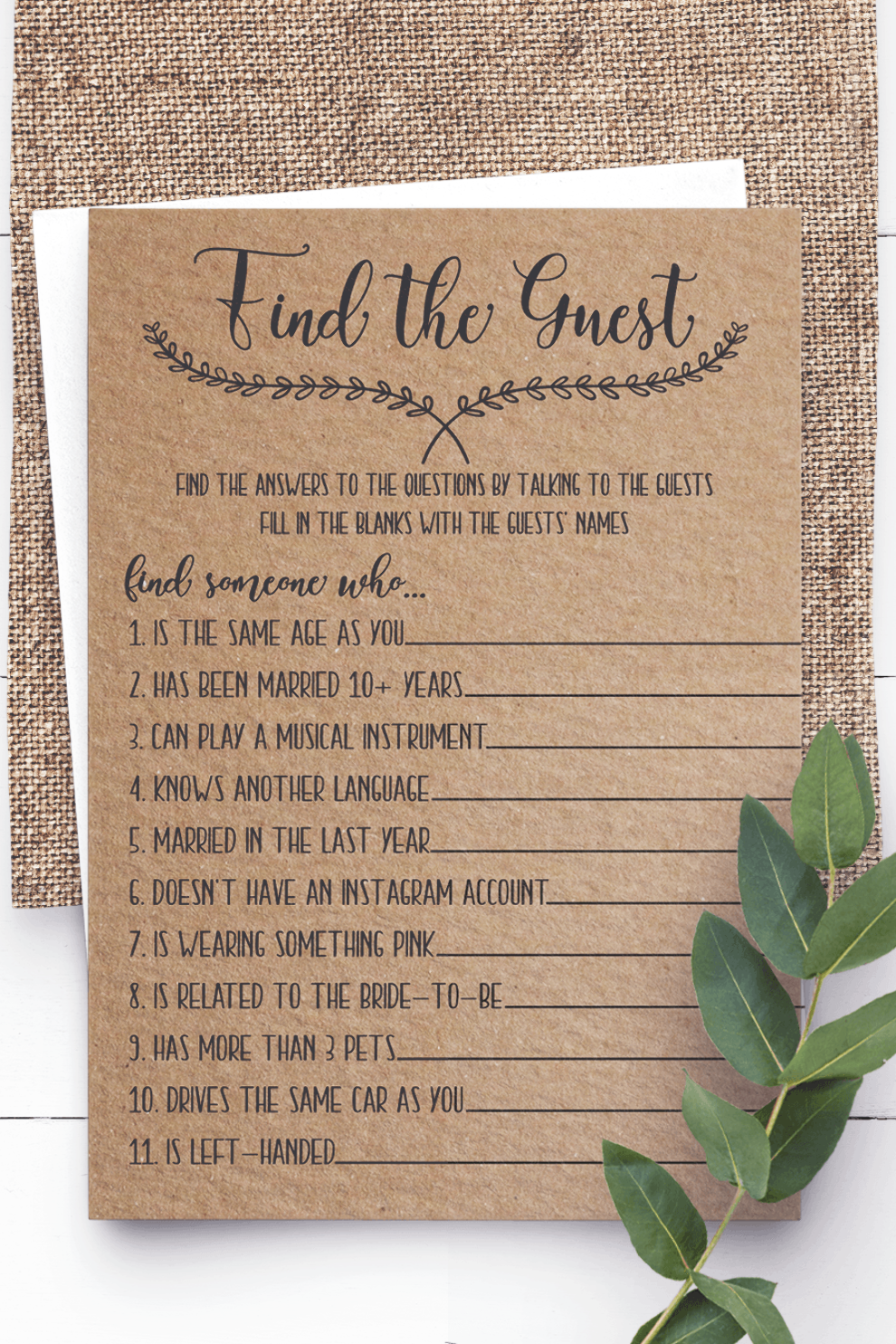 This great icebreaker bridal shower game will have guests interacting and learning more about each other. Each guest receives a checklist of facts about other guests in the room. These facts can range from favorite food to more personal facts like someone being married for a long time.
Guests match these facts with someone in the room, causing plenty of conversations in the process.
3. Trivia About the Bride and Groom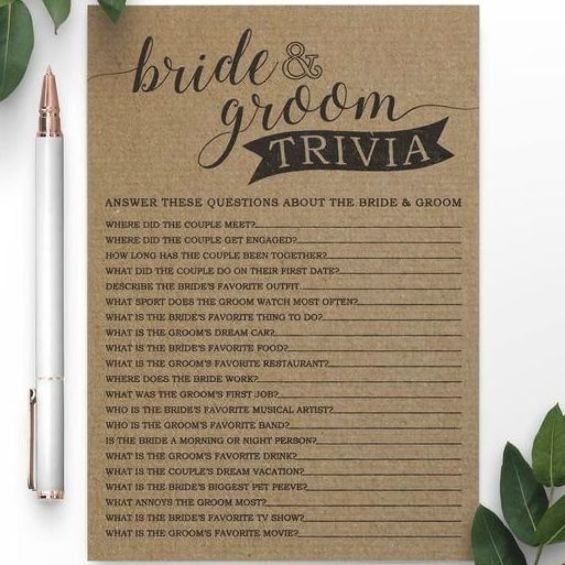 Of course, bridal shower games are also a way to honor the bride and groom. Before the wedding or bride shower, a couple can answer questions like:
Their first date
How they met
Their partner's favorite hobby
Places they've visited
Favorite love songs
Mix up all the answers while taking out information like pronouns, and pass out all the quotes to the guests. The guests will guess who said what, and whoever matches the most statements correctly will win the game.
4. Two Truths and a Lie
Much of the bridal shower activities involve guests getting to know each other. One way to help guests share truths about themselves is with the fun game "Two Truths and a Lie."
This game involves each guest coming up with two truths and a lie. The other guests then need to guess which one is the lie.
5. Bridal Jeopardy
Unique bridal shower games include jeopardy but with a fun wedding twist. Create different categories that include questions that guests have to answer in the form of a question.
You can choose traditional categories for the questions, like movies, cities, foods, colors, and books. However, you can also make the game more personal by including wedding-related questions or questions regarding the couple and their love story.
6. Musical Chairs
Sometimes the best bridal shower games played feel like a blast from the past. For example, the concept of musical chairs is very simple. You create a circle with chairs and start playing music.
Everyone gets up and runs around the circle until the music stops, and the guests need to sit in an empty chair quickly. However, you remove a chair each round, putting a guest out of the game.
7. Newlywed Game
While the bridal shower is a fun way for the guests to have fun, it can also be a great chance to put the bride-to-be in the hot seat. This game is part of traditional bridal shower games and involves the bride or groom answering questions about their partner.
The questions can range from light-hearted, like "What is your biggest pet peeve?" to sentimental questions, like "Where did you have your first kiss?"
8. Vow Mad Libs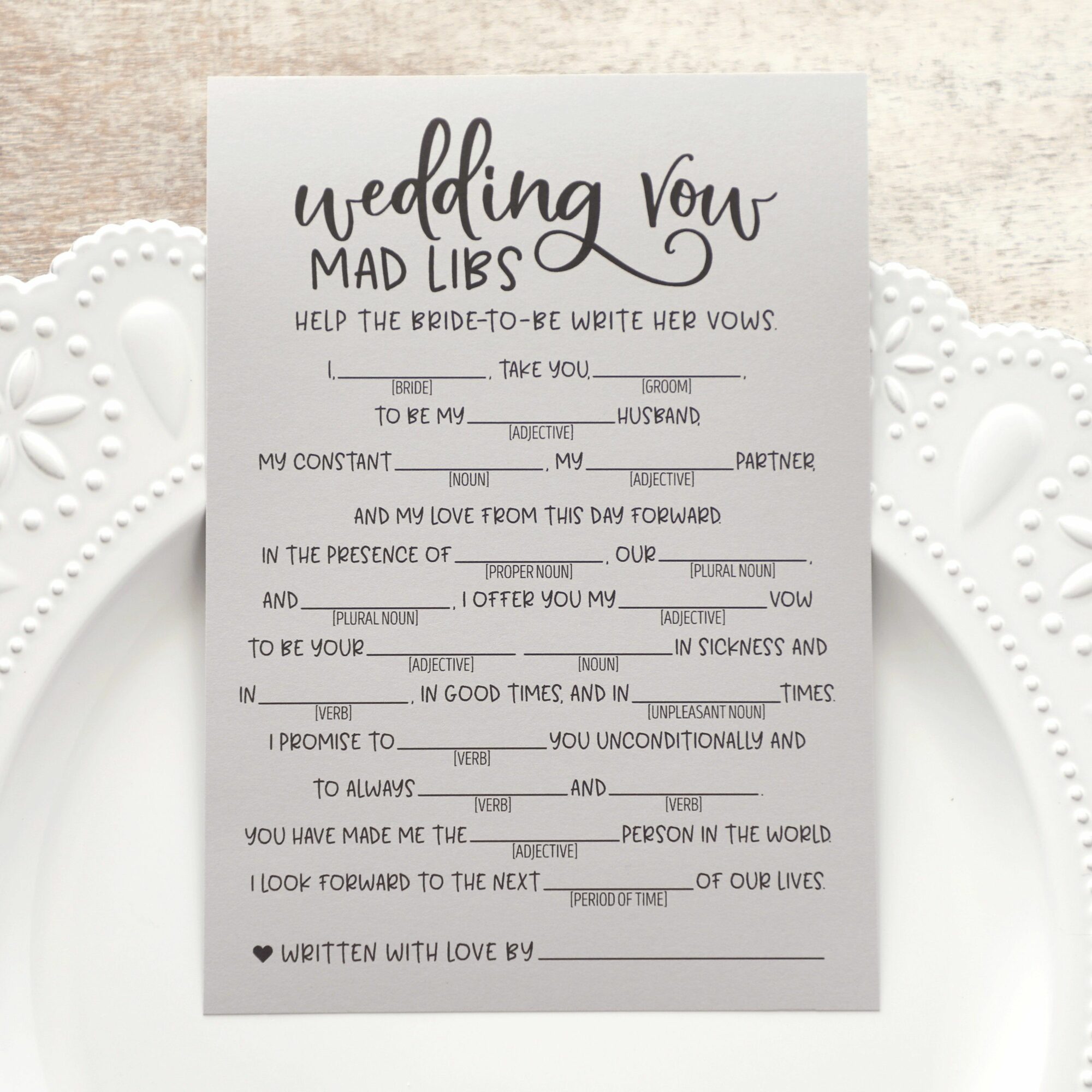 Wedding vows are sacred and can be just as important as any wedding dress or decorations. However, Vow Mad Libs lets your guests poke fun at the concept lightly.
The game works by printing out traditional vows and having each guest choose a unique word for every blank space. The bride reads the hilarious vows at the end, and you can even hold a fake wedding date where the bride shares the vows with their groom.
9. Ring Toss
This ring game requires you to buy plastic rings for every guest to wear. Choose a word that's forbidden to use, such as "wedding," "bride," or "love." During the evening, if a guest hears another guest say these words, they can take a ring from them.
The one with the most plastic rings at the end of the wedding shower is the winner, and you can even have them win a prize.
10. Where Is the Couple?
You can dig through social media and find many pictures featuring the happy couple. Your guests then need to guess where the couple is at in each photo. You can break the pictures into categories like state, restaurants, or if they're well-traveled, specific countries.
11. Who Makes the Best Cocktail?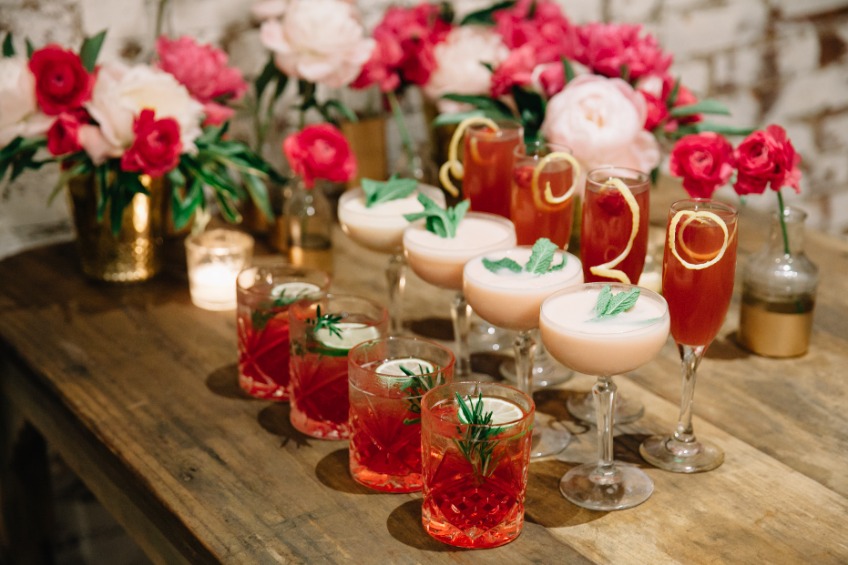 Many wedding venues may include an open bar alongside food stations. However, you can set up a bar at the bridal shower. Then you can have teams compete to make a drink for the bride. The bride then chooses her favorite drink of the evening.
12. Guess That Celebrity Couple
Another bridal shower game that is played often is "Guess That Celebrity Couple." The game works by printing out pictures of a celebrity couple and having your guests guess the names of the famous couple.
Of course, the harder-to-guess couple always ensures the most fun.
13. Wedding Movie Charades
Naturally, there are a lot of wedding movies, including well-known titles like Wedding Crashers.
Label note cards with these wedding movie titles and have your guests act out a scene from the movie without speaking. Their team members then need to guess what wedding movie it is.
Host Your Bridal Shower At One Of Our Stunning Venues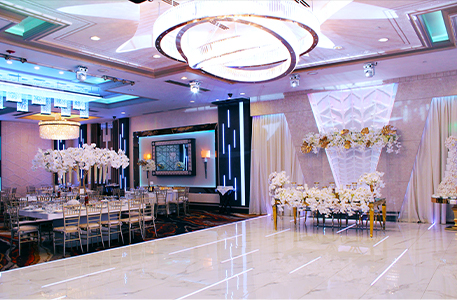 DeLuxe Ballroom
Transform your celebration into a fairytale at De Luxe Banquet Hall! Our ballroom's captivating ambiance will make all of your guests feel like royalty. With glamorous LED lighting, a wide open dance floor, and elegant crystal chandeliers adorning the high ceilings, you can create an unforgettable experience for any type of event.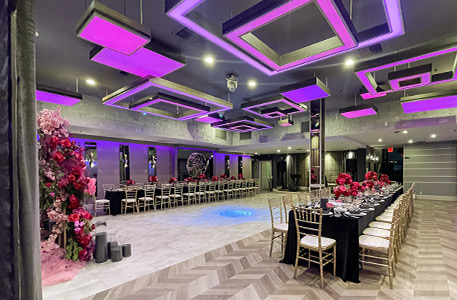 Olivia Event Venue
Experience the classic and modern style with Olivia Event Venue, the perfect place for your mid-sized event. With room to accommodate up to 150 guests, it offers immense comfort and energy. Enjoy excellent catering services as well as outstanding service that will make sure you impress everyone in attendance.
Many fun and interactive games can honor or shake up the wedding tradition. De Luxe Banquet Hall can help you with all of your wedding needs, including bridal shower hosting and planning.
Contact us today at (818) 955-7777 or check price and availability to host your bridal shower at one of our exquisite venues!