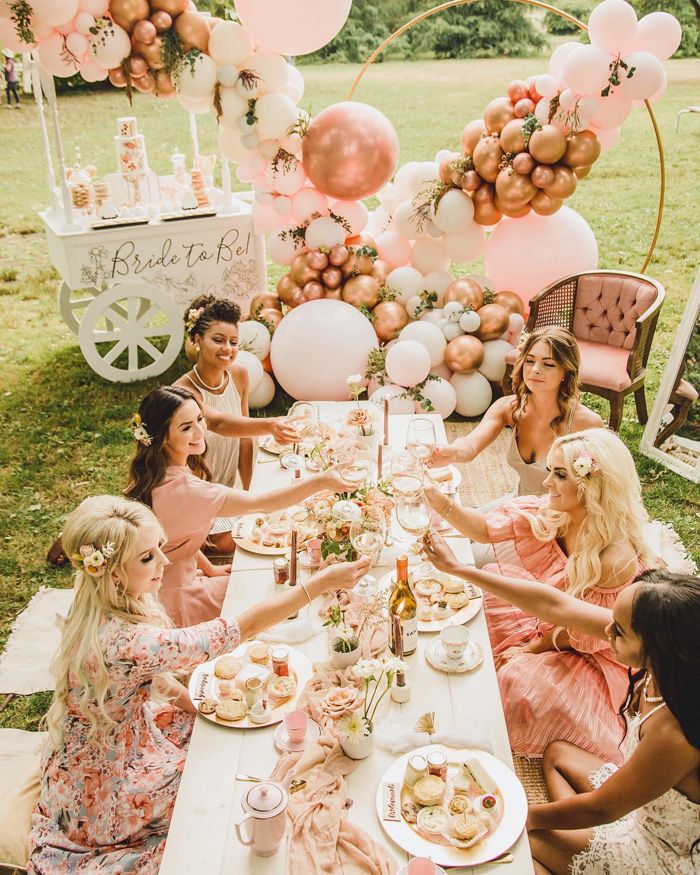 A bridal shower is a perfect time to gift something unique for the bride beyond the listings in her wedding registry. It's your chance to give her a practical gift she will use on her wedding day, during the honeymoon, or much later.
Creative Bridal Shower Gift Ideas
When searching for creative bridal shower gifts, look beyond the bridal theme. Don't know where to start? Below are 14 unique and creative bridal shower gift ideas.
1. Personalized Wedding Dress Hanger
The wedding dress is one of the most important garments the bride will ever wear. A personalized hanger is sure to make her happy. To make it extra special, customize the hanger with the bride's name and cute characters.
2. Wedding Cake Server
A custom cake server is one of the most thoughtful bridal shower gift ideas. This item is also an important accessory for the big day. Any bride who plans to cut a cake will appreciate not having to shop for a server during wedding planning.
3. Personalized Bath Towels
You can never have too many towels. Any bride will love receiving personalized bridal shower gifts like towels. Go for monogrammed cotton towels to make the about-to-be newlyweds feel pampered.
4. Cookware
Is there any piece of cookware the bride-to-be has been eying for a long time? Buy it for her bridal shower. Purchasing wedding shower gifts like cookware follows the traditional bridal shower gifts approach of giving the couple practical items.
5. Wine Bottle Labels
Bottle labels are one of the best wedding shower gift ideas you can purchase.
Turn the bottles of wine to be served at the wedding into keepsakes, with romantic labels featuring the couple's photograph.
Be sure to get the labels to the wine shop before the wedding date!
6. Champagne Flutes
A flute set is a unique bridal shower gift. It has practical uses during bridal showers, weddings, and beyond. Go for flutes with a love-themed design for maximum effect.
Champagne glasses also work well as a wedding gift.
7. Custom Aprons
Does the bride love to cook or bake? Give her a personalized apron she will treasure.
You can choose from a wide range of aprons featuring witty statements or funny inscriptions. Can't find options you like? You can buy Ultimate Apron and have an artist put your preferred inscription on the bride's new apron.
Look for designs with an adjustable neck strap to ensure anyone in the bride's home can use it.
8. Custom Cutting Board
A cutting board is a gift the bride will use throughout the wedding year and beyond. Leave a cute message or design on it so she'll always smile when she uses it!
9. Custom Luggage Tags
Consider buying matching suitcase tags. The tags will help the couple keep track of their belongings as they jet off for their honeymoon or future holidays.
It's no surprise that tags are popular wedding gifts, especially for brides who love to travel!
10. Wine Glasses
Personalized stemware is among the best bridal shower gifts. The bride-to-be will appreciate having glassware that bears her name or signature or is in beautiful colors like rose gold. Whether the bride uses the glasses on special occasions or daily use, they will have a special place in her heart.
11. Mini Emergency Kit in a Box
Do you want the bride to walk down the aisle worry-free? We recommend buying her a bridal shower gift box containing a wedding emergency kit. Include scrunchies, perfumes, jewelry, and candles with a scent inspired by the wedding theme.
The bride will surely appreciate having her emergency kit taken care of before the wedding morning.
12. Photo Frames
You can gift the bride a photo frame to hang up her favorite wedding photo. Look for frames that come with space for a personal note.
13. A Brew Maker
Give the bride a brew maker so the newlyweds can enjoy a delicious brew after the special occasion. It's the best gift for coffee lovers.
14. Personalized Stationery
With the bride searching for wedding inspiration on Pinterest, she may relegate a few items to the background. Replenishing her office stationery stock will surely delight her.
Customized pens, mouse mats, and markers are great options. Be sure to put them in a nice box for an especially chic gift.
Host Your Bridal Shower At One Of Our Premium Event Venues!
At DeLuxe Banquet Hall, we have hosted a great number of stunning weddings filled with elegant decor and top-tier service. Our upscale wedding venues provide a romantic atmosphere for your special day, creating the perfect setting. No matter the size or theme of your wedding, we are able to accommodate to all your needs.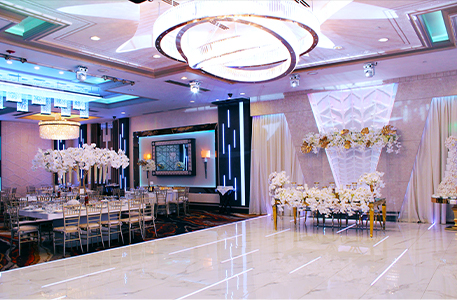 DeLuxe Ballroom
Transform your celebration into a fairytale at De Luxe Banquet Hall! Our ballroom's captivating ambiance will make all of your guests feel like royalty. With glamorous LED lighting, a wide open dance floor, and elegant crystal chandeliers adorning the high ceilings, you can create an unforgettable experience for any type of event.
Capacity: Up to 400 guests
---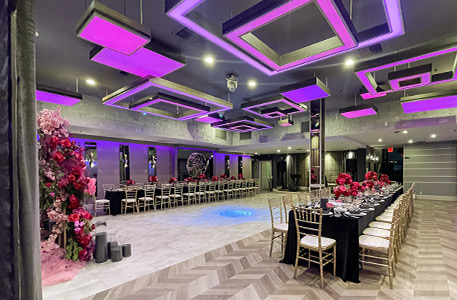 Olivia Event Venue
Experience the classic and modern style with Olivia Event Venue, the perfect place for your mid-sized event. Enjoy excellent catering services as well as outstanding service that will make sure you impress everyone in attendance.
Capacity: Up to 150 guests
At De Luxe Banquet Hall, we have various venue options to choose from. No matter if your bridal shower is big or small, one of our elegant venues will be able to accommodate to all your bridal shower needs. With an array of customizable amenities, our stunning event venues have everything you need to create your dream bridal shower!
To book your bridal shower venue, call us today at (818) 955-7777 or check price and availability.