Flowers are an integral part of just about every wedding, regardless of ethnicity, theme, style, or season. No matter whether you want to achieve an air of traditional design with your floral arrangements or just beautify your wedding venue, wedding flowers hold a lot of life symbolism and serve as a way to color your wedding ceremony and your memories of it in your wedding photos.
Wedding flowers are fantastic pieces of décor that truly add an element of personalization to your wedding venue or banquet hall. They add a touch of beauty to your church seats, reception tables, bridesmaids, flower girl, and many other areas. Here are a few solid tips to consider when planning the floral arrangements for your wedding ceremony or your wedding reception.
Classic Wedding Flowers
There's a reason "classic flowers" are named as such: there are certain flowers that just colorfully represent special occasions well, and have extra-special meaning for romantic occasions (and what could be more romantic than a wedding?). Here are a few classic wedding flowers and what they traditionally represent.
Lily of the Valley: happiness, joy
Gardenia: happiness, joy
Orchid: love, passion
Lilac: new love and life, springtime
Anemone: expectation, commitment
Any of these flowers are perfect to incorporate into your arrangements, or even your bridal bouquet.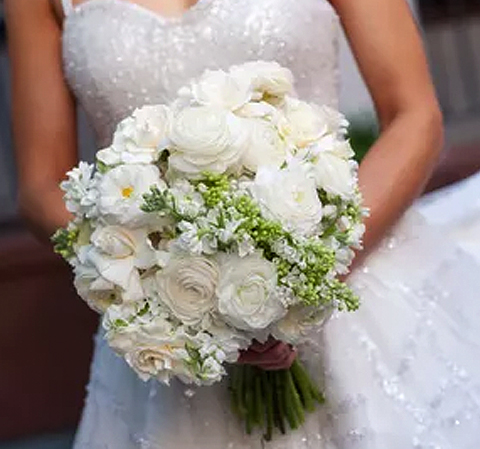 Wedding Colors
Nothing really allows you to incorporate your chosen wedding colors into your photo and décor more than your wedding flowers and your wedding party's attire. One common mistake that couples make when planning their wedding is to mirror the colors of the wedding throughout. Instead, choose bright colors in the floral arrangements that compliment the primary wedding colors.  So if your colors are blue and purple, splash in some whites, yellows, and greenery to accentuate those colors rather than simply choosing a sea of blue and purple throughout. Trust us—this will look much better.
Create Backdrops
Remember to base your floral choices on symbolism while still always keeping an artist's eye and considering the various spaces where you'll be taking wedding photos. A lush, colorful background that compliments your décor and reflects the tone of your wedding will make your photos pop and will look extra nice.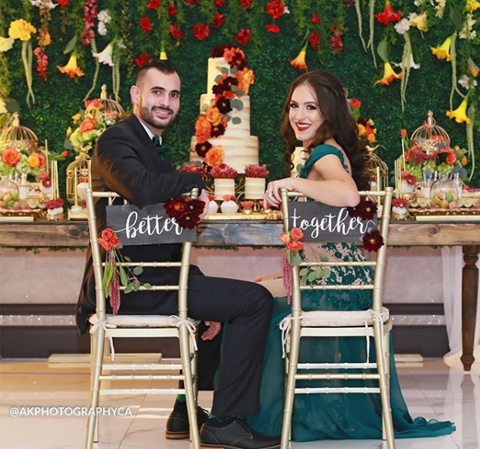 Compliment Your Venue
Remember to match your floral décor to the inside structure and interior design of your specific chosen Los Angeles banquet hall. Not all wedding flower colors go with just any venue. For example, a venue with dark wood will "present" roses much differently than a venue with bright neon lights will. Clashing colors can ruin even the most well thought-out floral arrangements.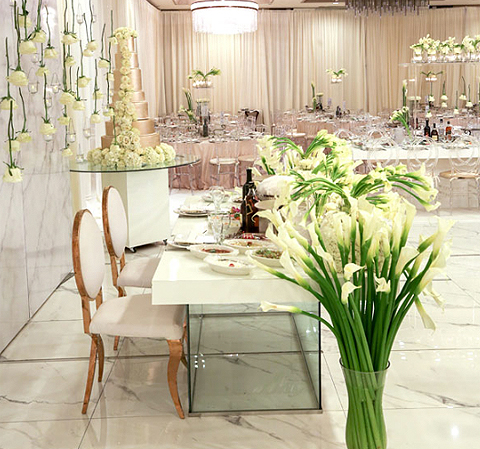 At De Luxe Banquet Hall, we've hosted weddings with truly gorgeous wedding flowers. They make a big difference. If you're currently planning your own wedding and are looking for recommendations for florists or other wedding vendors, we are wedding planning professionals who also provide upscale and stunning wedding venues. Take a look at the wedding venues we offer, and please contact us if you have any questions!
Watch below for more tips on wedding flower selection and arrangement: