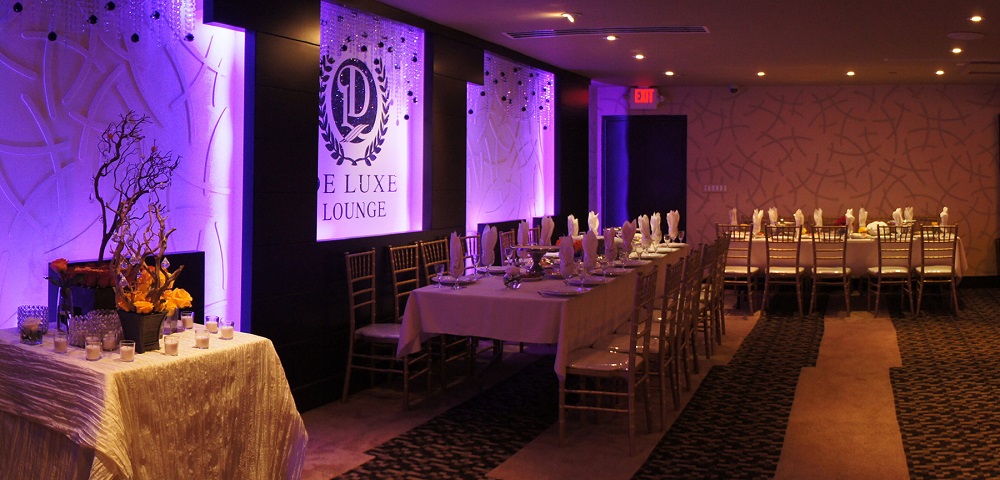 At De Luxe Banquet Hall, we know that each event, whether a birthday party, coming-of-age celebration, or corporate gathering, has its own unique needs and requirements. Often, a smaller venue is more suited to your intimate gathering than a large banquet hall would be, and sometimes, a relatively austere decor lends itself better to a relaxed environment than an opulent one might. For these reasons, De Luxe offers the comfy 50-person-capacity De Luxe Lounge for groups that require a lot of elegance in a smaller package.
Bigger Isn't Always Better
When you reflect on the most memorable occasions in your life, few were probably shared with hundreds of people; in fact, your favorite moments probably occurred in your own living room or at your kitchen table, surrounded by your closest friends and family members. Big parties can be a blast, but the intimate times are typically what we cherish more than anything.
At De Luxe, we aim to recreate the feeling of togetherness and intimacy one typically experiences in the comfort of their own home or workplace by providing a warm, inviting environment with luxurious furniture and a bevy of delicious culinary options. The only difference between our place and yours is that, at De Luxe, we take care of everything – including the event preparation, decorating, parking, cooking, food and beverage service, and cleanup – so you can fully enjoy the pleasure of your loved ones' company without having to think about doing the dishes later.
Smaller Size, Same Great Service
Though the guest counts might be smaller, every event hosted in the De Luxe Lounge is treated to the same fantastic service that has made our establishments one of the most sought-after banquet halls in Los Angeles. Even if a large event is taking place in the Grand Ballroom at the same time as your celebration or meeting, we dedicate servers to your party to ensure your guests are cared for at all times.
Typical Events at the De Luxe Lounge Include:
Adult birthday parties for friends and family members
Children's birthday parties
Graduation dinners to celebrate the graduate's achievements
Congratulatory dinners for promotions and new jobs
Prom (or other high school formal) dinners for groups
Power luncheons with corporate executives
Business meetings for small companies or small teams
Sports teams celebrating a winning season
Sweet 16 parties and Quinceaneras
Bridal showers and engagement parties
Bachelor and bachelorette parties
Baby showers
and any other event that necessitates an intimate, upscale atmopshere
When a large banquet hall isn't befitting for your intimate gathering, the De Luxe Lounge is the perfect alternative to hosting an event at home or reserving a large table at a restaurant with little privacy and terrible service. For more information regarding availability and rates, contact De Luxe Banquet Hall today!