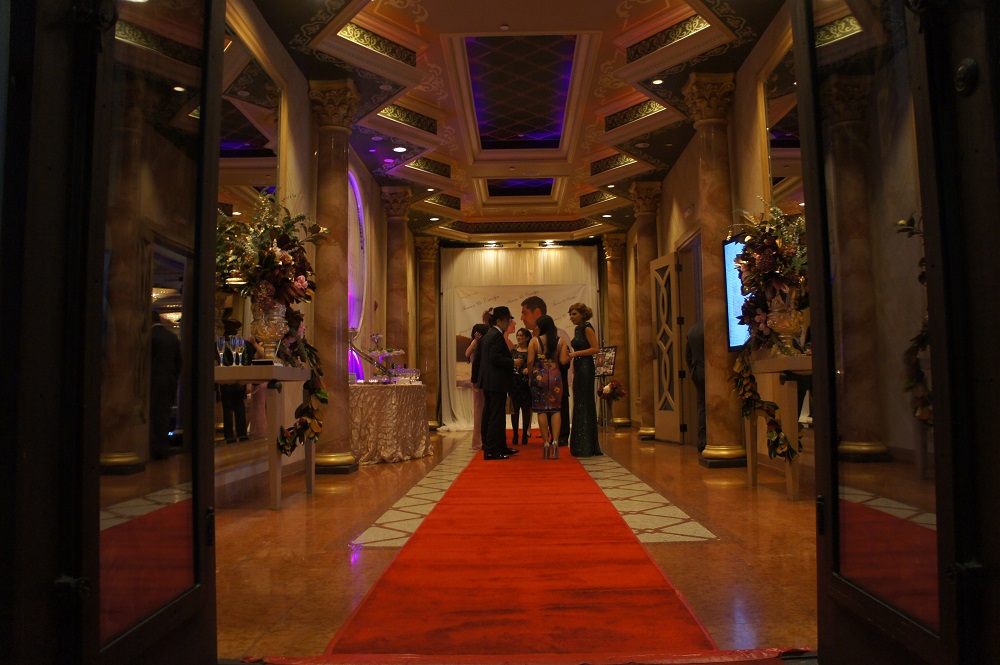 Hosting a corporate function like a fundraising gala, product launch, or networking mixer is a great way to generate publicity for your brand and turn attendees into brand advocates, but your event is likely to fall short if you fail to engage your guests. To ensure that you capitalize on your captive audience, De Luxe Banquet Hall has developed the following five techniques for taking your corporate party to the next level.
Technique #1: Utilize Your Team Members
The best way to make attendees feel valued and appreciated is to greet each one personally, but this can be a Herculean task for an individual. To avoid alienating guests, or worse, appearing insincere in an effort to shake everyone's hand, we recommend enlisting a group of outgoing staff members to act as a "welcoming committee" for guests. Instruct these gregarious team members to offer tours, help people find their seats, or get refreshments for attendees in hopes of fostering a meaningful connection with events guests.
Technique #2: Take Advantage of Lounge Space
Although corporate events should be engaging and high-energy, it's always nice to offer attendees a place to go to get away from the intensity of the presentation and the crush of the crowd. Large foyers and lounges are perfect places for guests to go to "catch their breath" or mingle with fellow professionals, so when looking for a place to host your next company party or upscale conference, check with the venue to make sure they have a place where people can escape.
Technique #3: Distribute Materials Digitally
These days, handing out paper brochures or print-outs of your program materials will make your business or organization seem outdated and technologically ill-equipped. Instead, save trees by distributing everything via free downloads, streaming the presentations and performances via Periscope, and using mobile tablets or smartphones to check people in collect contact information.
Technique #4: Create Spectacle With Live Performances
It's no secret that people are more likely to remember your corporate event if they associate it with a performance, and there's no better way to capture the attention of an audience than through live music, dancers, acrobats, comedians, or improv actors. (Tip: Before booking a professional entertainer or entertainment company, be sure you check with your event venue to make sure they can be accommodated!)
Technique #5: Make Promotional Items Cool
Handing out freebies is a great way to get your name out there, but only if the products you distribute make it out of the venue (and stay out of the trash). If you're going to give away branded goodies, opt for things people will actually use, like smartphone chargers, flash drives, travel thermoses, and sunglasses.